iPhone(iOS)or Samsung(Android)?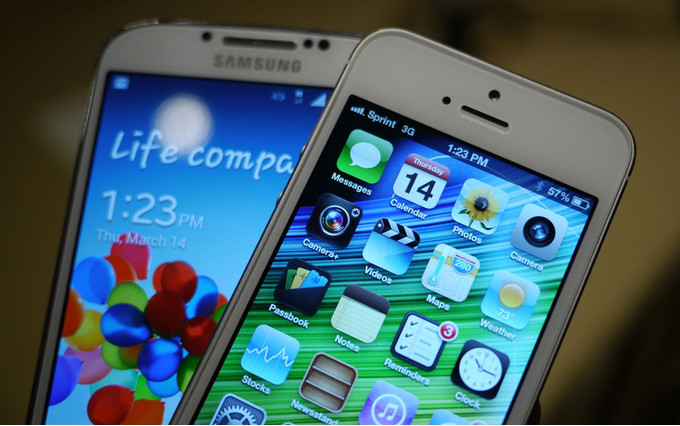 Sri Lanka
September 8, 2015 5:57am CST
First let me share my experience with you. I bought a Samsung Galaxy S4 phone lately and now I'm really disappointed with it. Why? After three months I can't take any pictures from its 13MP camera because pictures were getting so blurry. So I took my phone to fix it and they told me that it happened because I upgraded my Android version. What the hell! Now I can't take any pictures or record any video from my phone and it means 13MP camera is useless. The other thing is I feel like my phone's is getting slow day by day. I clearly remember the difference of the performance between the day that I bought and now. Galaxy S4 got very good CPU and a 2GB RAM but I don't know what's the problem with my phone. Let's talk about battery life. It can't last long maximum 3 and a half hour if I activate mobile data. So when I'm using my phone to download some movie or a file, I have to connect to charger before starting the download like supplying oxygen for irremediable patient. I think my phone is consuming too much power from its battery and I don't know it's a common problem on smart phones. So I never used a Apple iPhone ever and I don't know if they are better than Android phones. My friend has a iPhone 5 and it looks cool. I asked him about his phone and he said he got some issues with his phone and he told me to not to buy iPhones. Now I'm in a mess and I don't know which one is good or which one is bad. So what do you think the better brand is? Is it iPhone or Samsung? Also which OS is better , iOS or Android?
1 response

• United States
8 Sep 15
I personally prefer Android because it offers a lot more options for customization than iOS. It feels more user-friendly to me, although I've had a lot of friends who aren't as serious about their technology as I am tell me that they prefer iOS. What I'd like to know is if you've tried cleaning off your camera's lens. If there's something on the lens, that could cause it to be blurry. For that to happen, though, it's going to be very obvious on there. Other than that, the possibility is that there's an issue with the camera app. There is one app that has issues with the camera on my Android tablet. The first picture I take with it is blurry no matter what I do, but all others will be fine. No other apps do it. My suggestion would be to try a different camera app and see if you get different results. With the battery running down so quickly, it could be an app using data in the background. Take a look in your data settings and see what apps have been using the battery. If there isn't anything that seems to be using a lot more than it should, I'd be inclined to think there may be an issue with the hardware. If that's the case and you bought the phone new, I'd think the manufacturer's warranty should cover repairs to it. I'm curious--have you tried doing a factory reset on the phone? If so, did you experience any of the issues after resetting it to the defaults? That would seem to indicate that it's an issue with the upgrade or one of the apps you've installed recently.

• Sri Lanka
8 Sep 15
Awesome! you are the best Yuki! Thanks for the response and it is really helpful to me. Well I did clean my camera lens but problem is still there. I tried a camera app called the LINE camera and you are right about it. New camera app kind of fix the problem but the blurry effect is faintly still there. I think I should take it a professional to fix it. Anyway thanks to your suggestion. I look into my data settings and found out that some background apps using the battery. So I installed a app called DU Battery. It is easy to stop unwanted battery consuming apps from it. Anyway there is no significant change of battery draining. So I think it's a hardware problem just like you said. Yes, I have did some factory reset on the phone. I have upgraded my phone before the factory reset and phone's speed and performance have been increased. I do install lot's apps and games and you also said that it can be caused by one of apps that I have installed. I think I should take a look at what kind of apps did I installed recently. Thanks again for your response Yuki and I really appreciate it. I learned a lot from you!