Some Me Time .....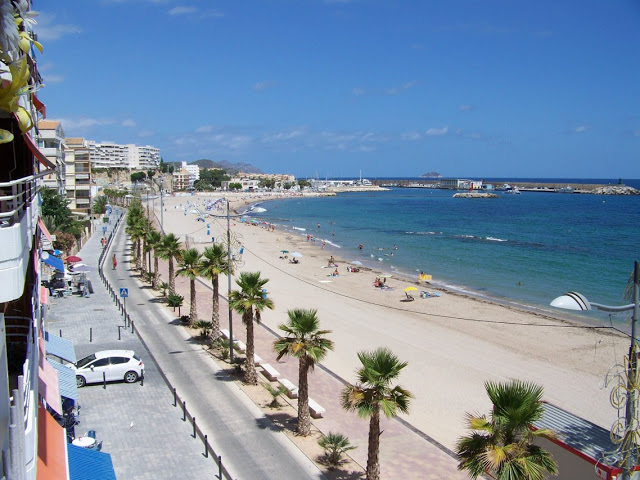 Alicante, Spain
September 21, 2015 1:58pm CST
Yesterday I did not come on here, except for late in the evening ... I had a nice day with two friends of mine... we went for a walk along the sea front..browsing in and out some of the shops... then for a nice leisurely meal.... This morning, I went out to the shops and did the few bits I wanted to do, got home, walked our puppy, sat down with my computer to come and say hi on here... and my friend phoned and said shall we go to the beach.... ohhh brother... mylot or the beach.... mmmm virtiual socialising ..or the real world, sun, sea, & sand... so i'm sorry folks ... I chose, sun, sea and sand... I had a lovely time, the water was a bit cool walking into..but once in ..it was so refreshing.... and then we had a drink at a beachside cafe.... I'm pleased really coz not only was it very enjoyable and good for me... when I came back I did a couple of jobs I was going to do, tomorrow...., so now ... tomorrow, I should be able to come on here and chat and catch up... un-interupted... yyeeyyy...

The photo is of the beach I was on this afternoon...
5 responses

• United States
22 Sep 15
reckon that's what i need, ms. sue? a beach to go 'n dip my toes in? nah, but i'd sure love the opportunity to do such with yerself 'n ms.
@maggs224
. perhaps some day.... don't blame ya fer yer choice, one i'd certainly'd made given the opportunity. that place ya call home is jest so stunnin'! i can almost smell that salty air... big hugs!

• Alicante, Spain
22 Sep 15
Yeahh that sure would be good, to have you stay a while and show you around.... and chat .....


big hugs to you too my friend....


• Alicante, Spain
21 Sep 15
@jabo
UKOohhh sorry to hear that Janet... Not to worry...not long now and you will be able to ...



• United States
21 Sep 15
What a lovely beach it is too. Enjoy it while the weather's still good.

• Alicante, Spain
21 Sep 15
Thanks, here in spain you can go down the beach all year... the winters are warm and sunny....

• United States
21 Sep 15
@sueznewz2
That would be wonderful. No more snowstorms


• Newcastle Upon Tyne, England
22 Sep 15
Lovely beach, it sounds like you had a lovely time, and made the right choice x

• Alicante, Spain
22 Sep 15
Thanks.. I think I did too....