I lost my beautiful Kitty about a week ago :(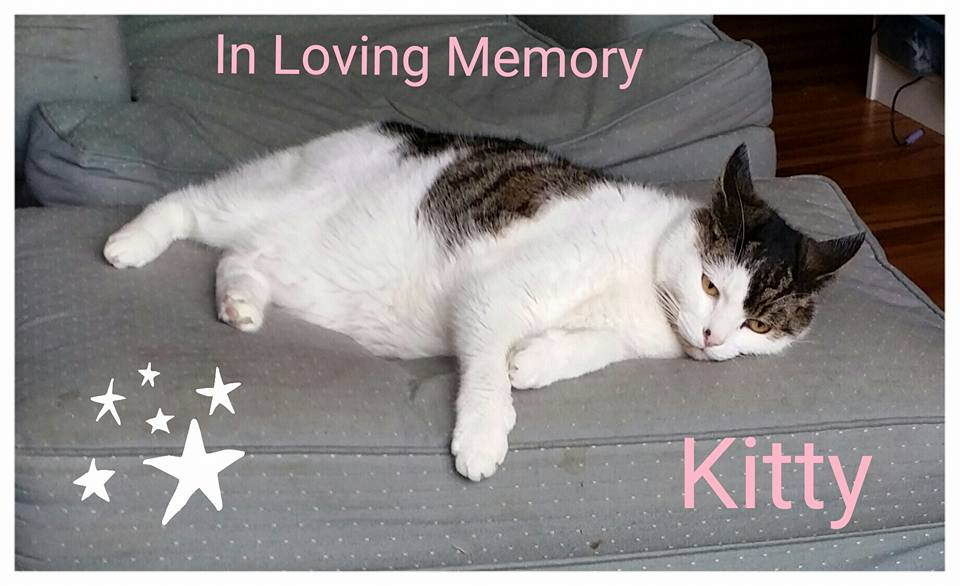 Canada
September 25, 2015 9:52am CST
For some of you who have ready some of my earlier posts about my cat, Kitty - she passed away Sept 15 2015. It was so sad but we knew she was dying for a couple of months anyway. Even though we tried to prepare ourselves for it we all took it really hard. On the last night she was frisky and plopping down, tail moving back and forth. Hubby and I comforted her and I was delighted to see her respond to my soothing voice by looking at me. I scratched behind her ears and she responded like she did so many times - butting her head against my hand and purring. We soon went to bed but were restless, tossing and turning. At 2am she was gasping for air in our bedroom, then at 3:30am she starting giving sharp loud cries and we rushed to her side again. We saw her take her last breath together. I grew up with cats and have had them die on me but both of my foster mothers hid it from us kids and it was all hush-hush. So it was pretty traumatic for me, witnessing a pet's death for the very first time in my life. I'm glad that my kids slept through it all. My kids ended up staying home from school and I was in a deep depression for about a week. I believe my family became closer during this time though. We talked openly about the details, speculated of life after death, our feelings, and we cried together. And of course there were lots of hugs. We're talking about getting another cat sometime in the near future, and I'll keep you posted about that. It won't be until the end of October or maybe it'll be our "Big Gift" of the last day of Hanukkah for our kids. RIP Kitty we love you and miss you terribly. Nothing will ever replace you, my sweet girl. You were the most kindest, most gentlest cat I've ever known. You were there when we were sad, comforting us, and with us when we were happy, playing with us. You were one of the most beautiful cats I've ever known. Loved your markings and your sweet face, your whiskers, and your soft meows and huge purrs. You were a good mouser, too - fierce when we needed it and gentle to us. Miss you, old girl
4 responses

• Canada
25 Sep 15
Sorry to hear about the loss of your cat. I don't have a cat but I did lose 3 dogs and it is always tough to take.

• Canada
25 Sep 15
Did you have to witness the actual deaths? I had a friend who lost pets but I don't think she saw them take their last breath. She told me yes she was sad but then was normal the next day because she "bucked up" and focused on her family. Which is good, I suppose, but I know everyone's different and I never started to heal until almost a week later.

• Louisville, Kentucky
29 Sep 15
I am so very sorry for your loss. We lost our dog Cricket back in March. She was 15 years old and we knew the time was coming also. We took her to the vet and she was already in the process of dying and we had the vet put her to sleep. It was the hardest decision I have ever made and like you, it affected me really hard for a while. It still can if I think about it. I really miss her as I had her from the time she was 6 weeks old.

• Canada
16 Oct 15
Wow that is a long time. We only had Kitty for about 2 and a half years, but she was getting old anyway. We hope to get a kitten at the end of this month, though. But nothing will replace Kitty. She will always have a special place in my heart.

• Fairfield, Texas
13 Oct 15
I am so sorry for your loss
@Masihi
. I've been there myself and it tears your heart out.

• Canada
16 Oct 15
Hugs, I know, cats are our family

• Preston, England
27 Sep 15
I lost one of my 2 cats earlier this year - he was mauled by a dog. My other, a girl cat, is 18. As my aging mum would need to help look after new pets she may be my last pet cat for some time.