Fall Colors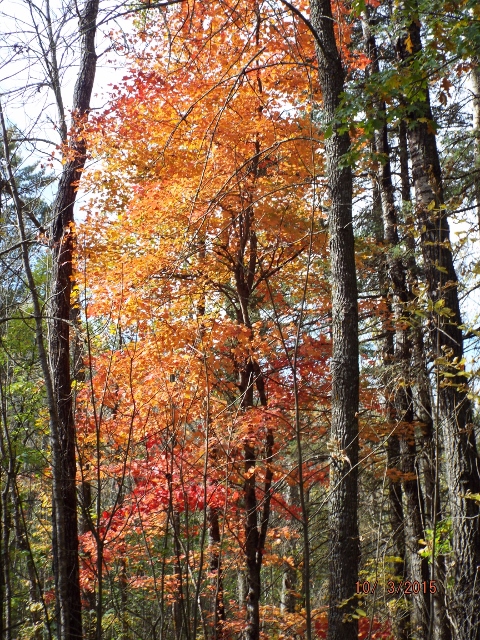 United States
October 4, 2015 8:42am CST
We spent the day yesterday at one of the state parks that isn't too far away from us. We have been there before but never in the fall. It was great getting to see all the fall colors there. Some of the trees were still green, but many of them have started changing. There were lots of yellow leaves, which we see a lot of in town, but there were also a lot of orange and red leaves. We don't see much of the orange and red in town, some but not a lot. My favorite trees were the ones that were either all red or orange and red. It was great being able to take the kids there and they all said they had fun. One of them even said it was fun enough to make up for the drive. I'm glad we were able to go yesterday and that everyone had a good time. The picture I have included is one of my favorite pictures I got. There were so many that I missed since we were driving through much of the park, and some because there were too many trees in the way to get a good picture.
5 responses

• United States
4 Oct 15
I love the fall colors. How the trees can take on different colors and hues. Where I live we don't get much of it. When I lived in Tennessee for a bit, I loved going down into the valleys on those off the beaten path roads just to look at the trees. I just couldn't take the cold, so back to the deep south I am.

• United States
5 Oct 15
@fawkes62
Yes, you get to shiver away as you look at the beauty, I have the beauty of staying nice and warm. It's the price one has to pay.

• United States
6 Oct 15
@fawkes62
I personally don't mind the heat at all. When it's too hot outside, I simply stay indoors.



• United States
4 Oct 15
that's what miss 'bout bein' in the hills - the vast array 'f the diff'rent colored leaves in autumn. here its mostly dull browns 'n dirty yellows. the native trees lack much color. 'm hopin' fer a 'show' from the bradford pear 'n some others we've planted. they're still purty much green, but figure that'll change 'fter this most recent cold front.