Who loves Mortal Kombat?

United States
November 23, 2006 11:02pm CST
I do! Been playing it since I was little. Got into it by playing with my older brother all the time, now I still love it. :)
10 responses

• United States
30 Nov 06
I love Mortal Kombat. I have only seen one movie, don't know if there's more but the one I seen was really good. There is an arcade that we go to that has Mortal Kombat and I love to play, The kids end up fighting me for tokens, LOL!

• United States
30 Nov 06
LOL, that would be funny to see. Yeah, there is more than one movie, there are two out. And there's a rumor that a third one will be out next year. :) Thanks for your response!

• Philippines
30 Nov 06
great game...i played a lot..maybe 8 to 12 hours a day...i only stop for chow....

• United States
30 Nov 06
Wow, that's alot of playing! Thanks for your response!

• India
28 Nov 06
i didn't play this game much... but liked it! :)

• India
24 Nov 06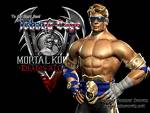 I used to play this before.I am a addict of mortal kombat.I like this game because its light in system resources and also v can perform various actions with each player.

• United States
24 Nov 06
Yeah, it's a great game. Thanks for your response!


• United States
2 Jun 07
I like mortal kombat, especially armaggedon, I just don't like tha fatalities in armaggedon. I like tha parry moves N breakers, but its to repeative wit tha fatalities.

• United States
18 May 07
Mortal Kombat is classic. I remember as a child saving up all my money to get the first three for SNES down at the exchange. It was revolutionary for its time, showing a lot more 'gore' than what was considered acceptable at the time. The huge controversy surrounding it is probably what marketed the game the best. The movies weren't the most awesome, but they were entertaining. The TV show that dealt with the backstory, while low budget was good, too. There's a new movie in the works for possibly '08. Hope that works out.

• Australia
5 Apr 07
It is a brilliant game. I like the atmosphere in Mortal Kombat. It bring back so much memories when I play mortal kombat 1,2,3 again. I like the new ones on PS2 as well. I finsihed Sholoin monks and I quite liked the new battle system. Another thing that stands out in this series is the story.

• Philippines
21 Dec 06
i do. but sad to say i dont know what are the keys for there own fatalities. hope you can help me guys.