The topic for Monday is ………Ginger Root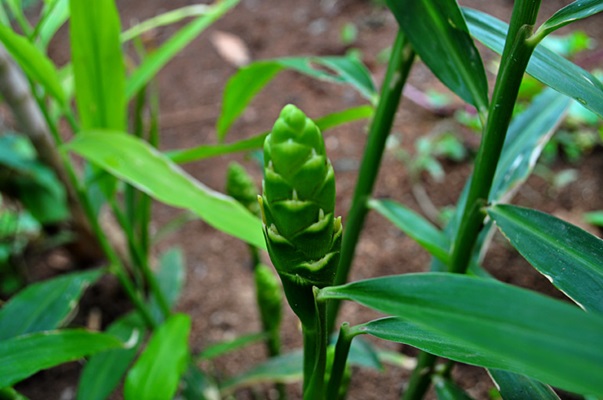 French Polynesia
October 19, 2015 2:21pm CST
Growing ginger in your garden is simple. You just need 1 piece of ginger root cut into smaller pieces to start your plant. It can take up to 15 days to see the root sprout and the plant start to grow. As the plant grows so does the starter root. The longer you leave your ginger the larger the root becomes. One great way to plant ginger is in pots. Each year the plant will die off but the root remains healthy. You can leave the root during the dormant season or harvest the root to use in your kitchen. If you want to have beautiful ginger flower around your yard it's better to leave the root for 2 to 3 seasons. When the root starts to fill the pot, at this is the time you'll see flowers on your ginger plants. Did you know ginger root is fantastic for your blood flow? Eating ginger is a healthy way to maintain a normal blood flow is with the ingredients found in ginger root. Ginger root has zinc, chromium, and magnesium, which is important for your body to maintain a normal blood flow. Furthermore ginger can help you lose weight. When you include ginger in your diet, it will increase your body temperature and help speed up calorie burning. Furthermore, if you cook with ginger it can enhance the thermic effects of your food and trick your body into believing you are full. Ginger is also fantastic to help your morning sickness. In the early stages of pregnancy, many women experience morning sickness. Therefore, it is recommended that you make a nice hot cup of ginger tea or eat a little ginger jam in the morning on toast can help you control morning sickness. Hot or cold ginger tea is wonderful to drink daily. This is so healthy for you and can wart off colds during the winter and keep you healthy year round. I use a lot of ginger when I cook fish and chicken. I love to make sauces with ginger. How do you use ginger in your daily lives? Do you know of and other benefit ginger has for us? Image source - pixabay.com
10 responses

• United States
19 Oct 15
i adore ginger 'n use it daily. i grind it up 'n sprinkle it'n my foods, make tea with it 's well. goes with my 'routine' 'f natural anti-inflammatories 'n nausea control. i've got 5 pots'f it growin' 't the moment. it'll not be long 'fore they'll be moved in to winter o'er. ya got a 'best time' to harvest those roots?

• French Polynesia
19 Oct 15
Here i have ginger patches all over my garden. I love fresh ginger. I have different pots growing all over my yard too. Here we don't need to take them inside for winter because it never gets that cold here on the islands. We can have ginger growing year round here.

• United States
19 Oct 15
@poehere
sure, jest rub that tropical warmth into my autumn laden, chilly self, lol.


• French Polynesia
20 Oct 15
Here it is almost the same. Many people grow ginger because it brings them a good price at market. In our markets ginger root sells for almost 10 USD a kilo.

• Vancouver, Washington
20 Oct 15
wow thats super i'm gonna look into that to sounds wonderful

• French Polynesia
20 Oct 15
Here I cook with a lot of ginger and grow it around my yard. I love fresh ginger. It's simple to plan and to grow. Hope you enjoy planting some of your own ginger around your home or yard.

• Vancouver, Washington
21 Oct 15
@poehere
thankyou for the information sounds great

• French Polynesia
21 Oct 15
@softbabe44
Your welcome. I have a giant organic garden here and I am into planting all different types of herbs, roots, and veggies.


• Boise, Idaho
19 Oct 15
Just did a squash and cranberry recipe with a little ginger. It adds such a nice flavor.

• French Polynesia
19 Oct 15
I couldn't agree with you more. Ginger adds such a good flavor to food. Many small children don't like ginger they say it makes their food too spicy or hot and it burns their mouth.

• India
3 Nov 15
Despite having so much space I have never thought of growing ginger which as you say is quite easy. I will think about it now. Thanks for reminding me.

• French Polynesia
3 Nov 15
When I first stared to grow ginger all i did was buy 1 fresh root at the market. I cut it up in pieces and planted it. All them sprouted and I had a lot of ginger plants growing in my yard. I left half of them in the ground and dug up half of them like 4 months later and had a lot of nice roots to cook with.


• French Polynesia
19 Oct 15
I love it cooked together. Especially when I'm making stir-fry. I use the combination with onions when I make fresh chutney. It is so delicious.

• Delhi, India
21 Oct 15
We tried to grow a ginger plant in a pot, however, we did not succeed. May be ginger plant requires a particular kind of climate, which perhaps was not available at our place. We extensively use ginger in all the Indian dishes we prepare and we know that it is one of the best source of zinc, chromium, and magnesium etc. In winters, we use little pieces of grated ginger in tea and this way not only our teas taste good but we get some minerals also. Sometimes, we buy fresh ginger and we make its small and this slices, we put it in a bottle and pour lemon juice in it along with some green chilly. After 2-3 days ginger becomes very tasty and soft and we take it along with our meals.

• French Polynesia
21 Oct 15
That sound delicious. When I grow ginger I take a large root from the market and cut it into pieces. You will see a knot on the root. I make sue to leave this know when I cut the root into pieces. In the ground I bury it deep but in posts I don't. I normally just use regular dirt from my yard. If your weather is cold ginger won't grow from what i see. I know it goes dormant at times and grows again. I'm no expert I just allow it to grow. I also know it grows best when it's really hot and humid here.

• Delhi, India
21 Oct 15
@poehere
- I will ask my gardener to help me grow ginger, as you have suggested. Thanks for sharing a wonderful post.


• French Polynesia
21 Oct 15
@dpk262006
You are so welcome. I love to share posts like this that help people and give them some information they might not of known about before.


• Cuyahoga Falls, Ohio
21 Oct 15
I love ginger ale. I know my brother uses ginger root for cooking. But I haven't had ginger tea yet. I would love to try it someday.

• French Polynesia
21 Oct 15
It's very good and especially if your coming down with a cold.

• Cuyahoga Falls, Ohio
22 Oct 15
@poehere
I would have to find some ginger tea this weekend.

• French Polynesia
22 Oct 15
@KristenH
It's simple to make your own. Just clean some ginger root and cut it into small slices. Bowl it in some water and let it stand for a few min. It is great to have fresh ginger tea.



• French Polynesia
5 Nov 15
I grow a lot of mine in pots. I find this works rather well. If I grow for the markets or to sell to clients then I use a metal roof panel with dirty on it. I fill the middle with dirty and put the small pieces of ginger there. It will take around 3 to 4 months like this to fill out and give me some nice piece of ginger to sell. In post the roots get very large and some of them I leave to flower time and time again because they look so nice.

• United States
20 Oct 15
Hi there EXCELLENT article on the benefits of this delicious plant ! I also found it to assist digestive distress by neutralizing some of the hydrochloric acid in the stomach while calming and toning the undulations of a normal colon that has been distressed by the wrong foods. Thanks for writing this and bringing it the attention it deserves and nice to make your acquaintance
@poehere

• French Polynesia
20 Oct 15
Thank you so much. I am so glad you liked this. I have a lot more information just like this but for some reason it doesn't get that much attention on the site. I love sharing knowledge about plants, herbs, roots, and fruits. I think they are so important for our daily lives and keep us healthy. I also know when I do one of these articles many people have been copying me. Guess that makes me feel good because they found it important too. I feel the more people know the better our lives will be. Hope you will read a few more of my articles on coconut oil and fresh basil. I will do a few more very soon so stay tuned. More to come.