I Feel Sorta Lazy Today!!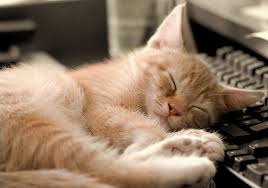 United States
October 22, 2015 1:51pm CST
I feel like the cat in the picture once again! I did wake up, had coffee, made breakfast, took the trash out and then did the dishes and one small load of laundry and cleaned a little bit of the house but from that point I feel like I don't wanna talk to no one! L.O.. The home phone has rang several times and my cell phone has over 10 missed calls. The only person I want to talk too is my Husband or Parents. Do you ever have days like these? I don't mind being on line chatting but here don't wanna answer the phones or the door, not that anyone has knocked on it lately but still won't answer it anyway

3 responses


• United States
22 Oct 15
I really don't want to do anything at all! L.O.L. But I know in a little while I will have to make my Husband dinner so dreading that and my friend she keeps calling me and I know she is getting mad cuz i'm not answering it! L.O.L. Don't care hopefully after work she will not come by here because it is supposed to poor down rain! I am praying for it to hurry up!


• United States
25 Oct 15
Yes I also feel like that cat. And he looks so comfy and soft. I am going to sleep now. Talk with you later and soon.