Halloween Again!!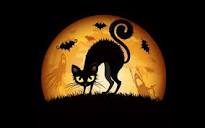 United States
October 27, 2015 4:00pm CST
I love Halloween! It has always been one of my favorite Holidays! I remember going door to door when I was younger with my Mother and Brother and Dad. Getting all the yummy candy! I also remember all the parties at School we had as well. Then when I got older in my 20's and 30's going to parties and having contests as well at work mostly and I miss that so so much! I am unable to work at the moment and I hope I will be able to return soon. But I miss that so much

But anyway not sure if I am going to get candy to give out this year because last year we didn't have any kids come by.

And the year before even though we did have some come by my husband ate the rest of the candy and we had to turn off all the lights L.O.L.
3 responses


• Thiruvananthapuram, India
27 Oct 15
I am so sad that in here such kind of festivals re not happening where costumes are dressed up. i would love to be there

• United States
28 Oct 15
I always loved Halloween as a child and we went trick and treating even the night before Halloween then when I had my children I would take them out for Halloween but then we had to check their candy and make sure it was okay. It is to bad children now days have to have so may parties instead of going out door to door but now it is to dangerous.

• United States
28 Oct 15
I agree it is scary anymore because the world has changed so much in time

• United States
28 Oct 15
@jahernandezrivas
If I had young children now I would not let them go out for treat or trick instead I would have a Halloween party at my home and invite all their friends and parents and everyone would have to dress up. We would play games and all the parents could bring something for the children so everyone would have something.