Missing my doves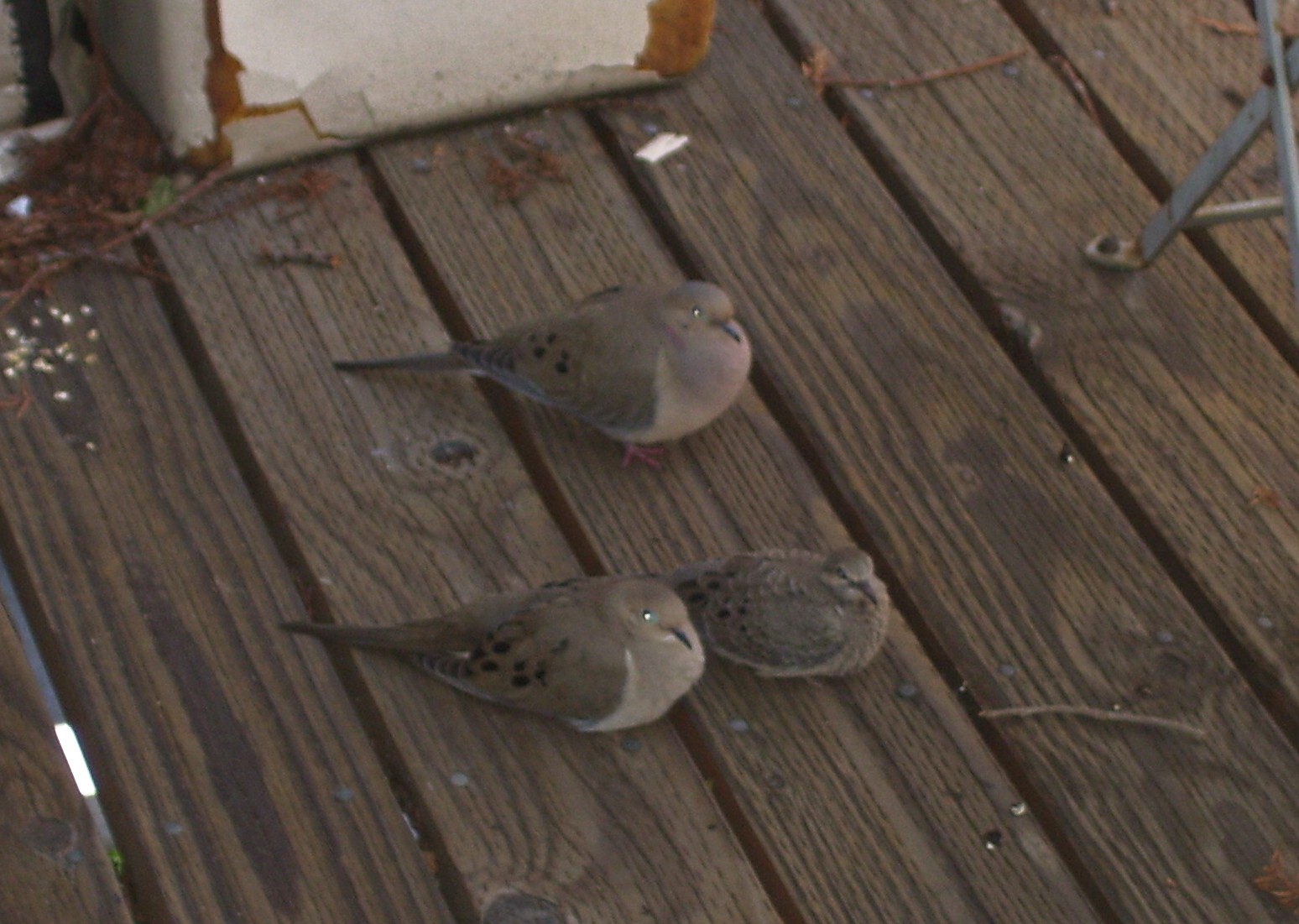 Walnut Creek, California
October 28, 2015 9:56pm CST
As Winter approaches, I think about the doves who made my balcony a home for brief periods of time this Spring. For some reason, my balcony became the home of juvenile mourning doves who were out of the nest, but still leaning to fly. They (one at a time) would just sit there, and not even shy away from me when I'd water my plants. Periodically, an adult dove would come by, encourage the young bird to fly, and then leave. The young bird would be gone for awhile and then return to the floor of my balcony by evening. One stayed about ten days. Two others stayed for about five. I read on the internet that it's the father who teaches the juveniles to fly, while the mother maintains the nest. I'll miss my juvenile mourning doves as Winter sets in. I'll attach a picture of my first young friend, on a rare day when both mom and dad were checking in on him.
6 responses

• French Polynesia
29 Oct 15
Yes when winter hits in a lot of places it is so cold. I see on the TV here the storms and all the snow. We don't have much of a winter here on the islands and I'm not sure how I would do in such weather. I am so use to the warm climate and humidity here on the islands I think I would freeze before winter finished. Just remember John Snow kept saying winter is coming and it will be a long winter at that.

• French Polynesia
29 Oct 15
@TheHorse
Yes that does sound good especially for a lot of places that are so dry right now.


• Philippines
29 Oct 15
i thought they would perch on something higher and not on the floor

• Philippines
29 Oct 15
@TheHorse
maybe also because he wasn't born there so there's no nest hanging somewhere?

• Walnut Creek, California
29 Oct 15
@hereandthere
I read that once they get the boot from the nest, they settle in somewhere else for awhile, and dad "teaches" them to fly and be adults doves. Then they find their own way.


• Roseburg, Oregon
29 Oct 15
Good picture that you t

ook.

• Laguna Woods, California
29 Oct 15
We lived in a house that attracted doves, too. I never knew why, but they nested under our deck and I loved hearing them coo.