When will you book a plane ticket?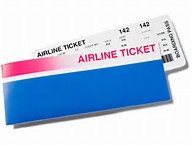 Guangzhou, China
November 10, 2015 8:24pm CST
Suppose you have planned a travel. Will you book the plane ticket in advance? If so? How early will you book it? I always want to book it earlier because the price is cheaper. Sometimes I will book it about three months in advance. I still think it is risky because nobody knows whether the plan can be carried out without any accidents. Three months is not a short time. And most of the time the plane ticket can't be refunded and this will be a big loss.
4 responses

• India
11 Nov 15
It depends. If my travel is mandatory, dates are rigid, and is known to me well in advance, I book the ticket anywhere between 120 to 150 days in advance and stick to it. If the travel date is slightly flexible, then I will take a risk of going to the airport couple of hours before departure without a ticket, and buy it at the counter. Believe me, I had got tickets for 10% of its cost in the nick of time at airport counters as the airlines go frenzy and attempt to get rid of unoccupied seats at throw away prices in the last minute.

• India
11 Nov 15
@youless
Of course, we should be smart enough to have done some Internet research before leaving for the airport. I normally do a trend analysis at least a week before such "sudden travel". If the available number of tickets keep reducing gradually, then we know the flight is crowded (we should not rely only on the official website of the airline though; should try with several online ticketing websites). Once we are convinced that the flight is running half-empty, or at least several seats to be "thrown away", then we can take a courageous decision to dash the counter.


• Boise, Idaho
11 Nov 15
If I am able to buy one ahead I certainly do. I can save a lot that way.

• Boise, Idaho
11 Nov 15
@youless
...I would check with those in the know and find out how far ahead is too far.

• Mechanicsburg, Pennsylvania
12 Nov 15
Usually when I've traveled (not on business) I've tried to get the cheapest ticket possible. Often that's meant I had to book early, with no refunds or changes allowed. I was willing to take the chance in order to get the lower price.

• Japan
11 Nov 15
I used to book my ticket months in advance because people said it's the cheapest. However, I'm starting to realize that this isn't true for all airlines and destinations. I booked a ticket in August for a December trip and tickets are actually cheaper now. It's just a small difference, but I think if seats don't sell put, they'll lower it even more.