Daily Bible Study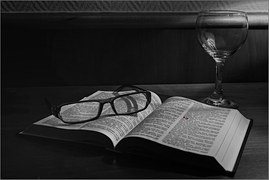 Green Bay, Wisconsin
November 17, 2015 9:49am CST
Day 48 – Captivity 2 Kings 24 What holds us captive? We don't like to think of anyone or anything holding us captive, but the reality is something always does, whether it's our work, our family, our hobbies, or those we associate with, something has us bound maybe not with fetters and chains, but it's there nonetheless. Nebuchadnezzar began his siege on Judah during the reign of Jehoiakim, continued with Jehoiachin and ended with the reign of Mattaniah whose name was changed to Zedekiah a total of seventeen years and three months. In that time Nebuchadnezzar also went against Egypt so that Egypt could no longer go up against Judah. Nebuchadnezzar also took all the vessels from the temple and began the migration of the king's family, the princes and the mighty men of Judah, and craftsmen to Babylon. Nebuchadnezzar did not lay siege to Judah in haste but took his time and executed his campaign against Judah in stages until only the poor were left in Judah. When it comes to our lives, Satan also has a campaign against us. He lays his groundwork carefully, playing on our weaknesses until we are completely captive to his tactics. He starts out slow so we don't recognize what is happening until it's too late. At that point we have two alternatives, accept our captivity, or break free through the blood sacrifice of Jesus our Savior. It won't be easy to break free because Satan will have done his work well in our lives. We are comfortable in our lifestyle, not willing to give up what we have for an unknown. It is only when we understand the unknown that we rebel against Satan and seek the freedom found in Jesus Christ. Ephesians 2:1 And you hath he quickened, who were dead in trespasses and sins; 2 Wherein in time past ye walked according to the course of this world, according to the prince of the power of the air, the spirit that now works in the children of disobedience: 3 Among whom also we all had our conversation in times past in the lusts of our flesh, fulfilling the desires of the flesh and of the mind; and were by nature the children of wrath, even as others. 4 But God, who is rich in mercy, for his great love wherewith he loved us, 5 Even when we were dead in sins, hath quickened us together with Christ, (by grace ye are saved;) 6 And hath raised us up together, and made us sit together in heavenly places in Christ Jesus: 7 That in the ages to come he might show the exceeding riches of his grace in his kindness toward us through Christ Jesus. 8 For by grace are ye saved through faith; and that not of yourselves: it is the gift of God: 9 Not of works, lest any man should boast. (KJV) God's plan of salvation to free us from Satan's schemes against our lives is bound up in His Son, Jesus. When we accept Jesus and the power of the cross to free us from Satan's power, we will live victorious lives. God's intention towards His people when they were led into captivity was to show them how much He loved them. He had no intention to leave them in exile, but bring them back to their homeland. That is His intention towards us as well. Jesus is our way out of captivity. It is up to us to take the necessary step – accepting Jesus as Savior and Lord, to break free from Satan's hold on our lives. Let's pray: Father, help me see through all Satan's tactics in my life and take Your way of salvation through Jesus Christ, Your Son. In Jesus' name, I pray, amen. Copyright © 17 November 2015 by Valerie Jean Routhieaux All scripture is King James Version, edited by me into common English. Image courtesy of Pixabay
1 response

• United States
18 Nov 15
Drifting away comes on slowly so that we never even notice what has become of us.

• Green Bay, Wisconsin
18 Nov 15
So true. What we once saw as harmless has changed to the point of acceptance and complacency and complacency is exactly where Satan wants us, that way we accept the next thing he has in store for society at large. It is only when we keep our focus on Jesus that we are able to see what Satan is doing in our lives.