Cooking Taken To A Whole New Level!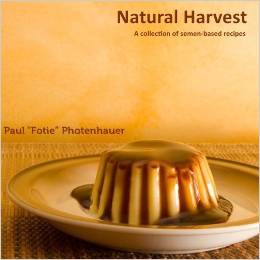 Sudbury, England
November 19, 2015 9:28am CST
Cookbooks are a vast and valuable industry, for publishers, where in the past quarter of a century, around 50,000 or more have been printed. At that rate, you might think that every recipe had been done or redone, with every possible ingredient used....on the other hand.... Paul Photenhauer decided there was a missing niche in this, over written market so he produced
Natural Harvest: A Collection of Semen Based Recipes
Photenhauer says, "Semen is not only nutritious, but it also has a wonderful texture and amazing cooking properties. Like fine wine and cheeses,the taste of semen is complex and dynamic" In case you want to venture into the unknown...the book is available on Amazon, I'll say no more

.
7 responses

• Bunbury, Australia
21 Nov 15
Good lord - what next? I can think of all sorts of questions but I don't think I'd better start. Ones about collection, etc


• Bunbury, Australia
22 Nov 15
@suzzy3
I hadn't thought about getting it from a shop. My mind was racing off in other directions.



• Roseburg, Oregon
19 Nov 15
I am going to experiment with cooking when i retire. It will be fun.

• Sudbury, England
19 Nov 15
Well if you use this cookbook, better not give your guests the list of ingredients


•
19 Nov 15
I remember reading about this a while back. It made me retch then and still makes me retch now. Eugh! I wonder how many of the books have been bought as a novelty item and how many for the following of the actual entire recipes!

• United States
22 Nov 15
This is too gross for words, so I'll just




• Saco, Maine
25 Nov 15
No more need be said. I can just imagine the quips that this could produce. Oh dear...