Indian Summer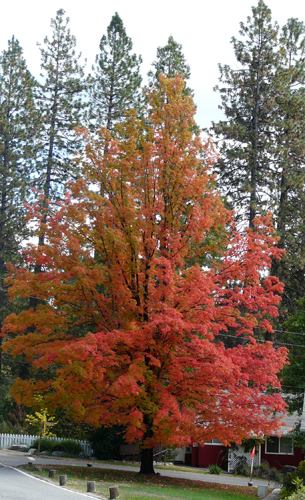 Nevada City, California
November 19, 2015 4:50pm CST
Autumn seemed be coming on strong a couple of weeks ago. We had some rain, with chilly days and cold nights. The trees are all dressed up in their fall colors, but now the weather has gone warm. It's that season we used to call Indian summer. The days are warm, sunny and still. Barely a breeze stirs the oak branches in their seasonal finery. The sun stays low in the sky, seeming to hug the hilltops as it makes its daily journey across the sky. Although the sun is warm, it does not last long; just few brief hours before the golden glow of twilight deepen into the shadows of night. Winter is coming. +norcal +Indian-Summer +weather +Autumn +Fall
4 responses

• United States
19 Nov 15
Yes the last few days it has been warmer. It will be a nice respite before winter comes marching in full force. I think this winter will be one of the worst in awhile.

• United States
19 Nov 15
@norcal
Yes I just hope for not too much damage from mudslides. A few rains ago the whole 58 got covered in mud. Whole semi trucks were swallowed by it. It took weeks to clear it all away. I agree we need the water but sometimes great droughts end in great floods.

• Nevada City, California
19 Nov 15
@chance216
- I saw that. It will not affect me too much, I live in a high area. So, it is easy for me to say that I want a lot of rain.

• United Kingdom
19 Nov 15
I love the autumn colours. it's getting very cold her now and storm Barney hasn't helped matters much.

• United States
20 Nov 15
Oh is that beautiful, Mother Nature has an amazing job doesn't she ? Thanks for sharing this with us and have a wonderful weekend

• United States
23 Nov 15
Oh enjoy your Thanksgiving celebration too
@norcal

• Nevada City, California
23 Nov 15
@enlightenedpsych2
- I will, but it sounds like our Indian Summer is coming to an end. Snow in the forecast for tomorrow!