The interaction of our dogs to that other dog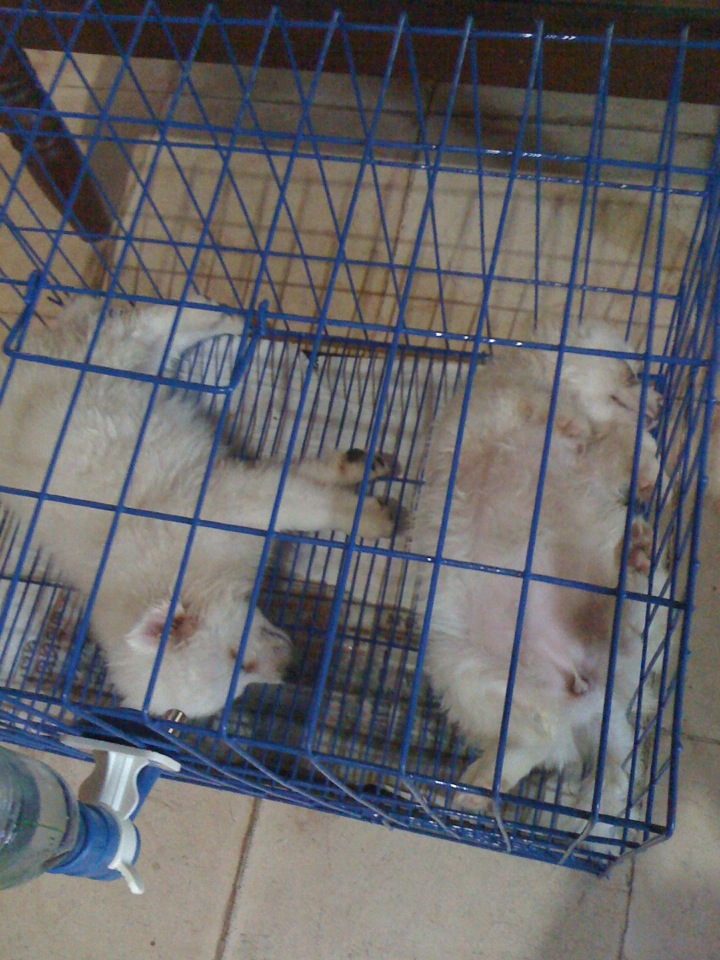 Philippines
November 21, 2015 5:05am CST
It is funny, but our dogs (we have 5) stay loose (unleashed) inside our house, and two of them respond quickly when there are sudden and unexpected noise from outside. Our forevermore dogs Macy and Xander are growing to be adult Japanese Spitz. We think Macy is pregnant, courtesy of Thor our ¾ Japanese Spitz and ¼ local breed. Another female dog, a local bred mutt named Trixie, is also pregnant courtesy of Xander and Thor. Chibi the Pomeranian, can just watch and do his thing at the hind leg of Macy. My sister is watching "Enemy of the State" starring Will Smith. His wife (Regina Taylor) entered their barn and their Japanese Spitz ran before her. The dog barked, and the forevermore dogs both stood up and barked at the television set. They interacted with the dog on TV. Do your dogs react to the television shows or other outside forces?
9 responses


• Philippines
22 Nov 15
thank you. now, all 5 of them are asleep.they also have their afternoon naps or siesta.

•
22 Nov 15
@ridingbet
Sounds like a lively household with plenty of fun.

• Philippines
28 Jan 16
@suzzy3
yes, and our puppies are running around like h_ _ l.



• Philippines
22 Nov 15
but I am sure they bark when there is somebody outside your house, right? How about testing their activity by allowing them to listen to some barks of dogs?


• Philippines
22 Nov 15
I took a shot of Trixie, our local bred pregnant dog, watching the DVD movie Avengers. She seemed listening to the dialogues of the actors, and her ears were standing straight.

• Canada
22 Nov 15
@ridingbet
Here ye here ye all fellow dogs. We gather here on national telly to share with you this important message. BARK!


• United States
21 Nov 15
You got your hands full with love. My wetnosedogs only bark at outside things, not the t.v. when i was working.

• Philippines
22 Nov 15
well I knew a quote that "barking dogs seldom bite; biting dogs seldom bark".

• Adrian, Missouri
21 Nov 15
You just have to love those guys! I have never had a small dog in my family but my big guy reacts to barking on the screen by running to the window looking for the dog that would dare invade his territory.

• Philippines
22 Nov 15
indeed, when our dog Chibi urinates at the gate, he is somewhat marking his territory.

• Philippines
23 Nov 15
I am not always at my parents house , so i don't know how Enzo and Bubblews the Shih Tsu (did i spell it right ?) get affected by the TV. But they can easily wake uo when their bos , my nephew arrives .

• Philippines
23 Nov 15
oh, so you named your dog Bubblews, my lady? remnants of the bubbling site...

Shih tzu the bubblews?!

• Philippines
23 Nov 15
@ridingbet
Oh so sorry , i inadvertently typed Bubblews instead of Mallows . I am still having the hangover of Bubblews finally closing .


• Philippines
27 Jan 16
Ha ha ha, you cannot forget bubblews! you named your shih tzu dog after it!


• United States
21 Nov 15
My dogs certainly do hear sounds from the TV and outside and my little one will bark, if it is a dog on TV both their ears perk up and they watch the TV. It is really cute the way they act when they hear something on TV like that.

• Philippines
22 Nov 15
true. they bark and even the slightest jolt of the door, they stand and/or snap.

• United States
22 Nov 15
@ridingbet
If my dogs hear a noise their heads go up and then my little one barks while my bigger dog stands guard.

• Philippines
29 Jan 16
@Marcyaz
that is a good symbiosis between your 2 dogs. the smaller one has louder bark then?


• Roseburg, Oregon
22 Nov 15
My dog used to react to things that he hear or saw on TV.

• Philippines
22 Nov 15
and it is nice, right? At least they are aware of their surroundings!


• United States
23 Nov 15
My dogs get scared of my older brother's pitbulls, they're really sweet, but they make mey shipoodle freak out. My Chihuahua gets along with them fine.

• Philippines
23 Nov 15
Chihuahua is small dog like the Pomeranian. we have a Pomeranian named Chibi which I think is a Japanese word?