I can't open my electrical pressure cooker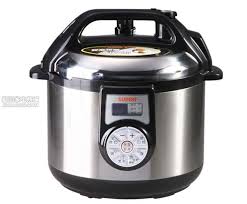 Guangzhou, China
November 28, 2015 9:49am CST
I have used my electrical pressure cooker for several years and it has worked very well. It is not horrible like the traditional pressure cooker. You just need to press the button and then everything will be done. You won't even hear that horrible sound. When it is done, it will show a green light. Wait for a while and you can open it. Tonight I use it to make the congee like usual. But now it is already one hour later, I can't open it yet. Is it because it is still hot so that I can't open it? I have waited for a long time. Now it is late. Let me wake up tomorrow and see whether I can open it or not. Hopefully nothing goes wrong at that time. If I can't open it, what can I deal with the electrical pressure cooker?

3 responses

• India
29 Nov 15
here in our pressure cooker we have whistle and you can remove from top, then all hot air gone so then you can open it,i can also see whistle in it so you can try it..

• Pune, India
28 Nov 15
Hi, I think you have a user manual of this electric pressure cooker. If you have it then it can guide you how to open it if it got a problem. If this is under warranty, you can call vendor and get it checked. There might be some function which is not working. Regards, Abhay Pujari

• United States
30 Nov 15
@youless
I didn't know what to suggest to open your pressure cooker but I see you already found a solution Glad you can still use it

• Singapore
30 Nov 15
I think you need to buy a new cooker. If you like deep fried food, you can buy air fryer, but that is not meant for rice or congee or soup. Air fryer is good for french fries, and chicken wings. The theory is that using hot air to fry things is healthier than using oil.