Childhood Lunch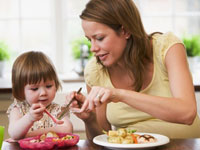 India
November 29, 2015 12:51pm CST
hello friends i am just sharing today about my own childhood story.while i am kid i like to take lunch with my mom because she tell me story about a wise man and lion. I Cant eat if my mom not say same story to me,so i not remember all but i will try mt best to describe it. In jungle one line live who is so much proudy and it is always angry and hungry so he eat anyone who he meet so first day he meet dear and say i will eat you because you are my lunch and he ate it.second day he met rabbit and same as he also ate it. Fox know that this time is his turn so fox make plan ,so fox met lion and lion said i will eat you but fox said you cant eat me,then lion said i am king and you have to do what i say,then fox said i want become your lunch but when i coming i met one lion who said i am king of jungle and i will eat you.then lion said how it possible ,i am only lion here,then fox said no there is another lion,so lion say let me take there where it is. Fox take lion to near well who has little water inside so after took there fox said he is inside this and lion show his face inside water which is shadow and say who are you but no answer coming because no one there.so lion become angry and fox said look inside that he is roaring,so without knowing lion jump in well and trapped,so fox now free and other animal also. moral of story was never feel proud and use some our brain also.after finish story mu lunch is also finish and i hear this story daily. so you have any story of your childhood while eating and your mom said?
9 responses


• India
29 Nov 15
oh so sorry for that but you enjoy you chicken which you are cooking.

•
29 Nov 15



• India
30 Nov 15
That's amazing while six brothers and sister eat with together and its really golden time while we remember it.My grandparents have 9 child in that time.They also share their story then we were very enjoyed.

• Philippines
30 Nov 15
I do love to tell stories to kids. I love their excitement while listening. My Dad was the one who is fond of telling stories to me when I was a kid.

• India
30 Nov 15
It such a nice moment we always feel exiting even hear same daily.I always feel its real story and i also ask some question to my mom about it.

• Philippines
30 Nov 15
@birjudanak
As a child we always believe that the stories are true. But it is really a sweet moment to hear our parents telling stories to us.

• India
30 Nov 15
@salonga
yes its feel that we are very deeply in it and enjoying like its a best thing of world and mother also said story in that tone that we are inside the story.



• India
30 Nov 15
That's so nice,i till not eat till mom not start story but in that time we are pitiable and likes story because in that time no internet and mobile ,even no TV,so that the only entertainment.

• Canberra, Australia
29 Nov 15
We were poor and hardly anything to eat, so we ate everything presented on the table. We love to eat now.

• India
30 Nov 15
so sorry for that time,but now you are in good condition so its nice and i hope you also tell story to your child while eat or sleep.

• Perth, Australia
6 Dec 15
My mum never told me a story to get me to eat. But I liked your story. :)

• India
6 Dec 15
its great moment while hear story from mom while talking lunch,i really enjoyed at that time because we never forget some things which is very close.


• India
30 Nov 15
yes you are true.they want that we finish our food very well and all thing which we need.

• Australia
30 Nov 15
Oh your mom is amazing to tell you that story .. What a great childhood memory ;)

• India
30 Nov 15
yes its so nice till sometimes i not eat and mom said what happened then i said mom please tell me story then we are both laughing.its one of my best memory of my golden childhood period.

• Roseburg, Oregon
30 Nov 15
I never heard that story before. My mother used to make up all kinds of stories like this one.


• India
30 Nov 15
This story is in one book which is in our native language.first i not like it but after hearing daily i liked it.