A trip back in time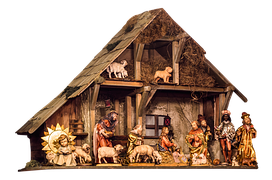 Dollard-Des-Ormeaux, Quebec
December 8, 2015 12:35pm CST
On Saturday evening a friend and I attended a great presentation by a church in a town hear here. The church had transformed their grounds into ancient Bethlehem with torches, animals, a marketplace, shepherds, and famous Christmas characters. We were led through Roman gates, where a costumed guide cast us as fellow travelers who must obey the law of the land while traveling to Bethlehem to pay taxes and be counted. We were given shekels to pay our taxes, and we had to guard these on the trip. The Roman soldiers tried to stop us several times, and sounded very fierce. Music and singing made the different scenes very enjoyable, It was almost as if we had been transported back in time, and were part of the journey. After viewing the baby in the manger, we then proceeded to the last scene which was the Apostle John writing the story of Jesus and the reason He came to earth, to go to Calvary for our redemption. We really enjoyed the presentation and I am already looking forward to doing it again next year. There was no admission fee, just donations of cash, and a donation for the local food bank.
4 responses


• Pensacola, Florida
10 Dec 15
Iwas part of one of those type reenactments years ago and would have loved to been part of the real happening

• New Delhi, India
9 Dec 15
There are many gifts under the christmas tree. But the best one is the gift of you friendship.