The Von Shef (Gift to myself)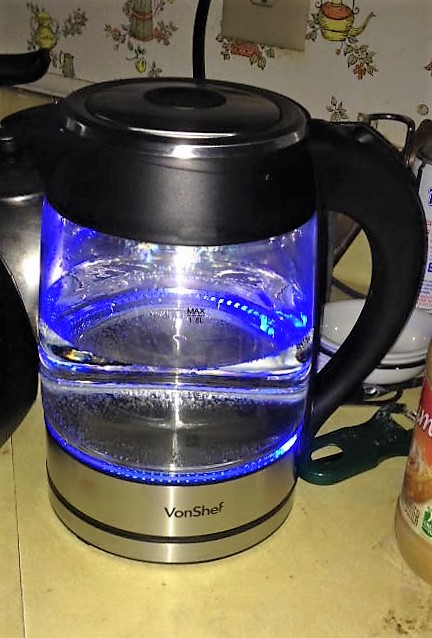 United States
December 11, 2015 5:40pm CST
I woke up to find that the gift to myself had been delivered. I was super excited but a bit worried because the packaging seemed to be smaller than I had expected it to be. I say seemed because upon opening the box I found another within and then another within that. It was packaged very very securely. I read the instructions and set about cleaning it for the first time. The picture you will see attached is of it's first boil. I have not yet made tea or hot cocoa but plan to make one or the other before work tonight. It features dry boil protection, auto shut off, and a pretty blue backlight. I've never heard of this brand before.
3 responses

• United States
12 Dec 15
I love it and I love my electric kettle too. It is not as pretty as that though.

• United States
12 Dec 15
I have to admit part of the reason I picked this one out was the blue light. I liked the auto shut off and boil dry protection as well though.

• United States
13 Dec 15
@ScribbledAdNauseum
It really is nice and mine is not w the blue light which is so pretty Cowgirl.

• United States
13 Dec 15
@TiarasOceanView
I don't even remember how much I paid for it now. I looked through and found the cheapest I could that had all of these features but I also looked at the reviews first. I posted a picture of it all lit up in the dark and my cousin says she wants one now as well. She drinks tea but always let's it brew then puts it in the fridge to get cold. I kind of feel like it's a waste for her to buy a kettle, but to each their own.


• Roseburg, Oregon
12 Dec 15
That is a very nice gift that you gave yourself.

• United States
12 Dec 15
Well the family can use it as well but I imagine they'll have me do the boiling for it. They only seem to drink tea if I offer to prep it.

• Oxford, England
13 Dec 15

• United States
13 Dec 15
@Auntylou
In all fairness, the people I make the tea for are my elders, so I don't mind making it for them.

• Oxford, England
12 Dec 15
I need a new kettle as ours got dropped. Does this come in a family size?

• United States
12 Dec 15
This one has a max line of 1.8 Liters. Most of the electric ones I've come across are about the same capacity. Of course I've only browsed amazon.