INDIA-what do people around the world think?


New Delhi, India
December 12, 2015 5:49am CST
India has surely showcased herself as a land of colors, festivals and an indisputable energy.India is well known for its diverse culture and an undying brotherhood .But these are some conventions about India, India is much more than this. So what do people across the globe think about this country?


10 responses

• Tel Aviv, Israel
14 Dec 15
India reminds of of the beautiful and colorful Sari . I wish have one but they told me its expensive :) It reminds me of Tandoori , biryani and other hot, yellow spicy yummy dishes :) and well of course that Infra Red dot on the forehead :))

• New Delhi, India
15 Dec 15
What beautiful views

something that woman in me was dying to hear :) and food here is definitely yummmmm. :D A personal suggestion- once in your life do try wearing a Saree. You will feel you have instantely got prettier.


• Tel Aviv, Israel
15 Dec 15
@Ridhimakushal
Yeah I think I should look on eBay for saree :) But I wonder when to wear :) I guess I'll wear just for pictorials haha :)

• Tel Aviv, Israel
15 Dec 15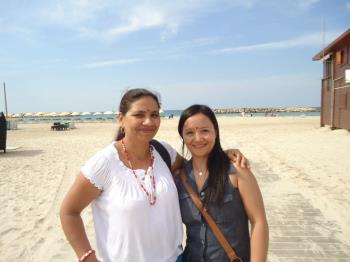 • Johannesburg, South Africa
13 Dec 15
When I think of India, I think of Cricket and Bollywood, sunshine and beaches, the majestic white marble Taj Mahal, and the lovely festival of Diwali. I have heard there are problems with poverty as well, but it is a problem many countries share, so I hope India can find a way to solve that, like I hope other countries, including my own, can too.

• New Delhi, India
14 Dec 15
Great views. In crisp you have defined India very precisely. :)

• Delhi, India
14 Dec 15
@bluesa-
It is good to hear that Bollywood movies and sport of Cricket and Taj Mahal these are the things which make you think about India. You see problems of poverty, pollution, traffic and population are there in every country. India is a vast country and it is the largest democratic country in the world. It has been progressing well and gradually trying to touch contours of a developed country from a developing country.

• Johannesburg, South Africa
14 Dec 15
@dpk262006
, agreed, every country has poverty, pollution, over population, my country struggles with crime and all the rest. India is progressing well and I wish your country much success.


• Bunbury, Australia
14 Dec 15
I think of India of hot, humid and very crowded. I know it has had a very chequered history. And it loves its cricket.

• Delhi, India
14 Dec 15
In India we experience all the four seasons ranging from scorching hot weather to bone chilling winter. It has indeed a chequered history and it is the largest democracy in the world. Yes, Indian Cricket team and its players are famous all over the world, specially where Cricket is played. India is second best cricket team in the world.

• New Delhi, India
14 Dec 15
@judyev
- humdity and hot weather is surely experienced here but only for a certain momths. We are fortunate enough to experience all the seasons of nature. :) growing population is a major concern. Surely, people got to do something about it.


. and yes people are crazy about cricket here. Including me :P . howsoever i would say it was a truthful answer ;)


• New Delhi, India
13 Dec 15
Surely sir, we cannot present our views about a country in few lines, or as a matter of fact there even a book would be less, but i am just curious to know what comes first to your mind when somebody says INDIA.

• United States
13 Dec 15
I have many friends who travel to and have lived in India. I know many persons of Indian roots in the United States. I keep up with news of India and watch Indian movies. I would love to go myself but do not know if I ever will get there. When I think of India, I think of festivals and great beauty. I think of wonderful food and a rich culture of many diverse types. I think of the many animal and wildlife that roams wild in India. India is one of the oldest democracies one earth. I am fascinated by the religions and spiritualities. I think of a long and difficult history. i also think of overcrowding and over population. I think of heat and humidity. I think of many conflicts especially religious conflicts. And unfortunately, there is corruption. So my perception is both good and bad. This is true of all countries and of all peoples.

• New Delhi, India
13 Dec 15
I loved your answer , the generic view that you represent is quite true, and i really liked the fact that you presented the fact that when somebody speaks about India its not just about festivals its also about corruption and such obscurities, that is the darkness prevailing in India behind all the colors it shows to the world. And that is where we need to grow. What a true response!


• New Delhi, India
14 Dec 15
Hahahha :P right now its too cold in Dehi :P different parts of the country experience different climate.

• Delhi, India
14 Dec 15
@Drosophila
- From where did you gather it is too hot?


• Ireland
14 Dec 15


• Delhi, India
13 Dec 15
It is an interesting discussion. It will be interesting to see how many users who are not from India respond to your post. I feel India's status has risen in the recent past viz a viz other countries in the world.

• New Delhi, India
13 Dec 15
Definately! Lookin forward for people's reply. Its great to know where we stand and where we need to improve. :)

• Delhi, India
13 Dec 15
@Ridhimakushal
yes, you are very right. Seeing India from others' point of view will be interesting. PS - I have suggested your post to some of friends here, let's see if they respond.

• New Delhi, India
13 Dec 15


• United States
30 Dec 15
I really do not know enough about the country or how my fellow citizens here in the USA feel about your country, would love to learn more about it though . . . a happy New Year to you if you celebrate on 12-31-15

• New Delhi, India
30 Dec 15
Yeah! Wee do celebrate it on 31st :D. Amd haaapyy new year to u too :)