Making my own Hummus!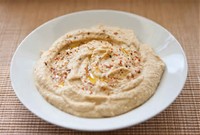 Canada
December 12, 2015 5:08pm CST
In the month of November me and two of my sons could have a free month of cooking class through the food bank. So we did. And have learned how to make quickie meals. We had recipes with different kind of meat and tuna, with pastas, potatoes, but the one thing that really liked is when she told me " You know you can make your own hummus, you don't have to buy it already made'. I said, '' Really''! So, now, I'm making pretty much everyday my own one. You use: 1 can of chick peas (without the liquid) 1 Tbs. of olive oil a hand full of parsley or salad 1 tsp. of salt 2 garlic cloves 1 tsp. of chia seeds add 1/2 of the chick peas left over water. You can add any veggies you want, and you can use kidney beans either with the chick peas or together. It taste good. Mix in a robot photo from teacher chef.com
1 response

• United States
12 Dec 15
we make our own every time.So easy to make and much cheaper than store bought.