What is your all time favorite holiday candy? And, Merry Christmas/Happy Holidays to you all, to myLot Community!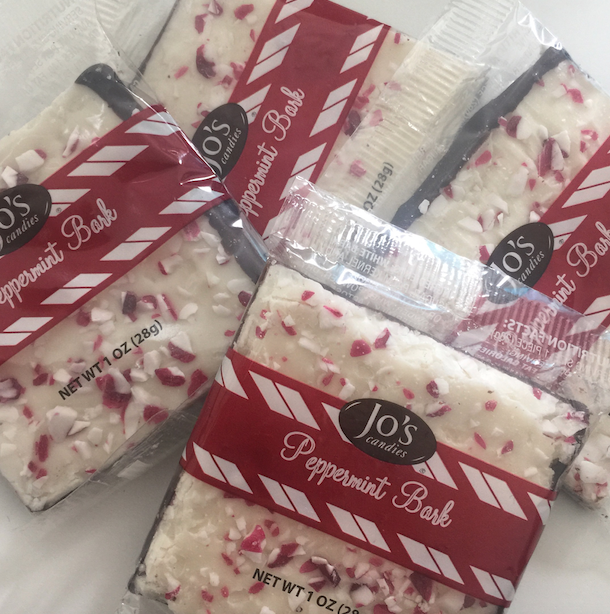 United States
December 25, 2015 12:40am CST
What is your all time favorite "must" eat holiday candy? Though, I am not a fan of candy canes what-so-ever, this Peppermint Bark by Jo's Candies is delicious! I spotted this little 1 oz bark at Whole Foods for $1.39/each last week and I had to go back to purchase some more for myself before the holidays is over! Hopefully after the holidays, they will go on sale so I can stock up on some more! If you have not tried peppermint bark it's a creamy mixture of dark chocolate and white chocolate crushed with peppermint candy cane. Very delicious and refreshing to eat especially with a side of hot chocolate. Also, Merry Christmas to you all or Happy Holidays if you don't celebrate Christmas. + Have a Great New Year! (Image is mine)
4 responses

• United States
25 Dec 15
Ooh that looks so yummy. I bought myself a Terry's Chocolate Orange. I've been munching on it every few hours. I am hoping they will go on mark down at work, but not sure that they will. We didn't have many come in as is. I love anything peppermint for this Holiday.

• United States
25 Dec 15
I just looked up Terry's Chocolate Orange and boy that looks delicious! I have never tried that before or seen it before. Merry Christmas!

• United States
25 Dec 15
@infatuatedbby
Apparently Ferrari (spelling?) has one too. We've had them here in the States for years, but I believe it's technically imported from the UK. It is really delicious.

• United States
25 Dec 15
@ScribbledAdNauseum
I will look out for them.

Thank you!! Have a great holiday.


• Malaysia
29 Dec 15
I'm so late to Christmas wishes for you. So I wish you that happy and prosperous new year. I also like dark chocolates very much.

• United States
29 Dec 15
No worries! I hope you had a great Christmas. I want to wish you a Happy New Year as well.

Good health and fortune!

I too enjoy dark chocolate! I am having too much chocolate that I had a bloody nose yesterday.


• Malaysia
29 Dec 15
@infatuatedbby
Yes, I had a great Christmas and happy holidays. I was very busy those days. How about you ?

• United States
29 Dec 15
@hiru84
I was busy also! I spent time with my family and loved ones. We had a wonderful dinner and opened presents.

Prior, I was out last minute shopping for gifts.


• Roseburg, Oregon
25 Dec 15
I only make fudge at Christmas time. It is my favorite candy.

• United States
25 Dec 15
If I send a SASE will you send me some?


• Midland, Michigan
27 Dec 15
I had a bit of a taste of a similar peppermint bark by a different manufacturer and you're right, it's very good. I knew not to buy some for myself, or I'd eat it all too quickly. I don't really have any favorites. I go for the inexpensive types which change from year to year and week to week sometimes.I should kick my candy habit once and for all. I did well for five months quite a while ago, by not having any sugar at all for that amount of time. Since then I've been lax.

• United States
27 Dec 15
I need to lay off chocolates! I just got a bloody nose today from all the sweets + chocolates lately, hehe.