Priest on Hoverboard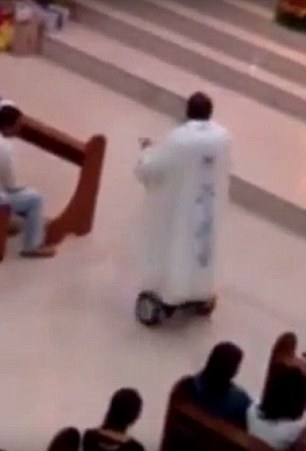 United States
January 2, 2016 9:15am CST
Should the Catholic priest be suspended after giving a sermon on a hoverboard? I understand this priest was going up and down the aisles on Christmas Eve Mass on a hoverboard. This priest has been suspended from his duties. One person who says he no longer attends mass says if there were more priests like this one, I may be tempted to return to mass. If people keep calling for traditions, you will lose even the most ardent Catholics. Then on the other side one person said it was complete and total disrespect not only for the Lord but also for the salvation of all those poor souls. There is a lot of controversy over this. Wonder what will happen next.
6 responses

• United States
2 Jan 16
He is doing his work out there.There is always someone complaining .They do not have anything to do but b...............tch






• United States
2 Jan 16
I see nothing wrong with it, tho it is controversial. At least he is getting around and it might be easier for him lolz


• United States
2 Jan 16
I might even think of going back to the church if I had a priest like him who doesn't act like he comes from another century.
@TiarasOceanView

• United States
2 Jan 16
@Marcyaz
Yes I know what you mean Marcy.

• United States
2 Jan 16
@TiarasOceanView
The Catholic Church could use more priests like him that show people they are human and know how to have fun.


• Perth, Australia
2 Jan 16
I am not religious like at all. But I still don't see this as offensive or anything. I think it would be fun. I don't see how this is a problem. People can be so darn uptight I swear.

• United States
2 Jan 16
I think it is a neat thing to show how human this priest is and nothing wrong with that.
@VivaLaDani13

• Perth, Australia
2 Jan 16

• United States
2 Jan 16
@VivaLaDani13
I would like to meet this priest as he sounds like he would be fun.


• Switzerland
3 Jan 16
@Marcyaz
If he is a Roman Catholic Priest, this act is considered offensive. The Catholic songs need respect and reverence. As all Roman Catholics know, he should also know. The laws (even religious laws) are made to be respected, no matter if they are right or wrong.


• Budennovsk, Russian Federation
4 Jan 16
it is OK from the one side, but, however, a priest should give an example of his faith in every action. Moreover, i think it is right for real church-attenders to come to church only by foot regardless of the distance. I do so. But the church isn't far from me of course. I might have changed my opinion if i had lived far from it.

• United States
4 Jan 16
@TypicalRussian
I don't understand how he is not giving an example of his faith, he is after all a human being like us.

• United States
2 Jan 16
I think suspension is going overboard for this priest. Personally I probably would have enjoyed his sermon and smiled that he was able to deliver Gods word while managing to stay upright on that hoverboard. I think the church has more to worry about than hoverboards and their priests

• United States
2 Jan 16
I don't feel suspension is proper for this priest as he sounds like a priest a lot of people would enjoy. The church does have more to worry about then hoverboards. No wonder they have lost so many people who no longer want to attend Mass.
@Marilynda1225