I broke down and tried them.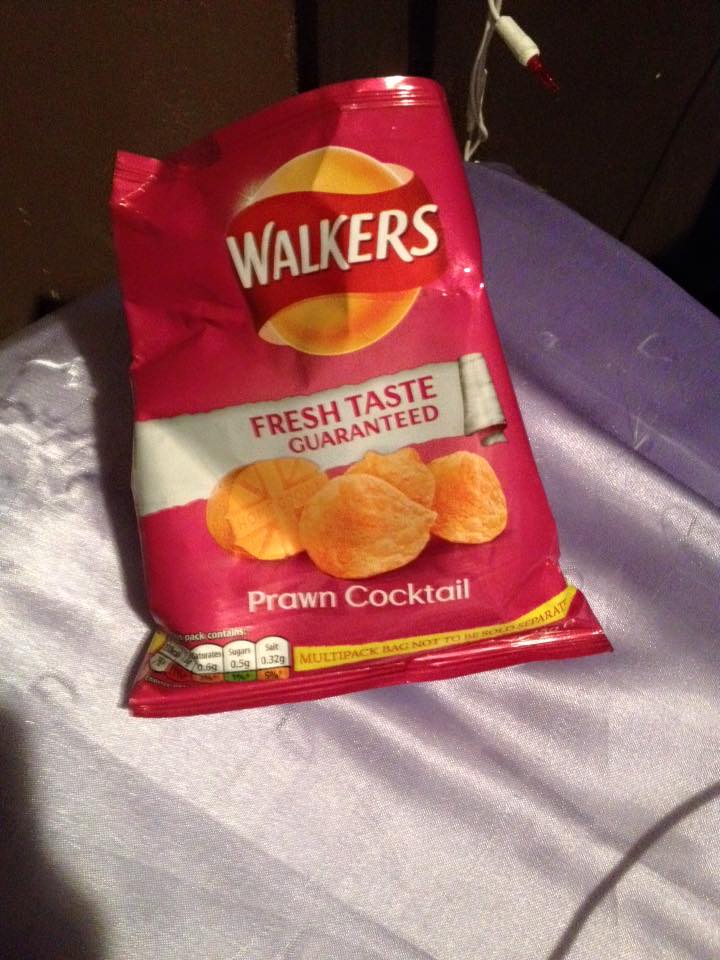 United States
January 27, 2016 8:13pm CST
I bought these as a package from amazon awhile back. They had different flavors, but about three or four of these. I've been munching on them for lunches or just a midnight snack but haven't tried this flavor yet. I broke down and opened the bag just a little while ago. I expected to be knocked down with the flavor but it's not overpowering at all. To me they taste like a milder salt and vinegar. I don't intend to buy a big bag of these but I wouldn't mind buying the multipak with these in again. As far as I am aware, Lays (the sister to Walker's) does NOT have a prawn flavored chip for us here in the U.S.
8 responses

• Momence, Illinois
28 Jan 16
Oh my prawn flavored chips, I'm pretty sure they would not go over big here.

• United States
28 Jan 16
You are probably right. I don't know too many people who enjoy seafood as is.

• Momence, Illinois
28 Jan 16

• United States
28 Jan 16
@fishtiger58
I have had tilapia, shrimp, crab, salmon and tuna. I prefer tuna over them all and am very picky about how my salmon is prepared. Oh and now you have me craving an onion burst (the fried onion thing) as we always get one of those when we go out for seafood.


•
28 Jan 16
Walkers are known in the UK and Australia otherwise known as lays. No i don't like pawn cocktail, Yes salt and vinegar mmm yum.

• United States
28 Jan 16
I am ashamed to admit I tricked a family member into trying the first chip in the bag. I wasn't sure I'd like them. They aren't too bad. Salt and Vinegar is way too strong for me, burns the insides of my mouth.

•
28 Jan 16
@ScribbledAdNauseum
Oh dear sorry they did that. Kettle crisps/chips are nice, sea salt and balsamic vinegar yum.

• United States
28 Jan 16
@kevin1877uk
I have bought some kettle chips in the past. They aren't as greasy which is nice. I've been meaning to try vegetable chips but haven't come across a small bag yet. I don't want to get a big bag if I can help it, I may not like them after all.


• United States
28 Jan 16
I never tried Walkers! I never knew they were the sisters of Lay (hence the logo looks very similar)

• United States
28 Jan 16
We can't get them here unless we order them via the internet. Atleast I am pretty sure there is nowhere in America we can get them. I wanted to try the prawn cocktail ones which is the main reason I got these. I've noticed other brands that we have in common with other countries? The other countries use older logo versions. We get bottled Pepsi (I think from Mexico but I haven't taken a bottle down to look) at our store that has an older version of the logo for instance.

• United States
28 Jan 16
@ScribbledAdNauseum
That is so cool ! I never really paid attention to logos much to see the difference. I think we have a lot of similar items worldwide just named differently also but I can't think of any on the top of my head.


• United States
13 Jul 16
Prawn cocktail flavored chips does not sound good at all. I wish they stopped making all of these weird flavors. I prefer to stick with the normal ones like classic, honey bbq, salt and vinegar, and dill pickle flavors.

• United States
13 Jul 16
I tend to stick with the classics myself. I don't want to think about what all is in all those other crazy flavored ones! I mean, how does one get the taste of biscuits and gravy in a chip?

• Pensacola, Florida
28 Jan 16
I have never heard of Walkers and not sure I would like a prawn flavored chip


• United States
28 Jan 16
I know that we don't have them in the US. I am not sure what imported items Canada offers. These were imported (I bought them online) from the UK.


• United States
28 Jan 16
They aren't something I'd want to buy solely, but they aren't the worst chip I've tasted either.

• Canada
28 Jan 16
I avoid the salt and vinegar chips...now give me barbecue flavour. Mmmm, I want some.

• United States
28 Jan 16
I love BBQ flavored chips! I don't eat chips as often as I used to but BBQ was one of my favorites by far.