Oregon Scrub Jay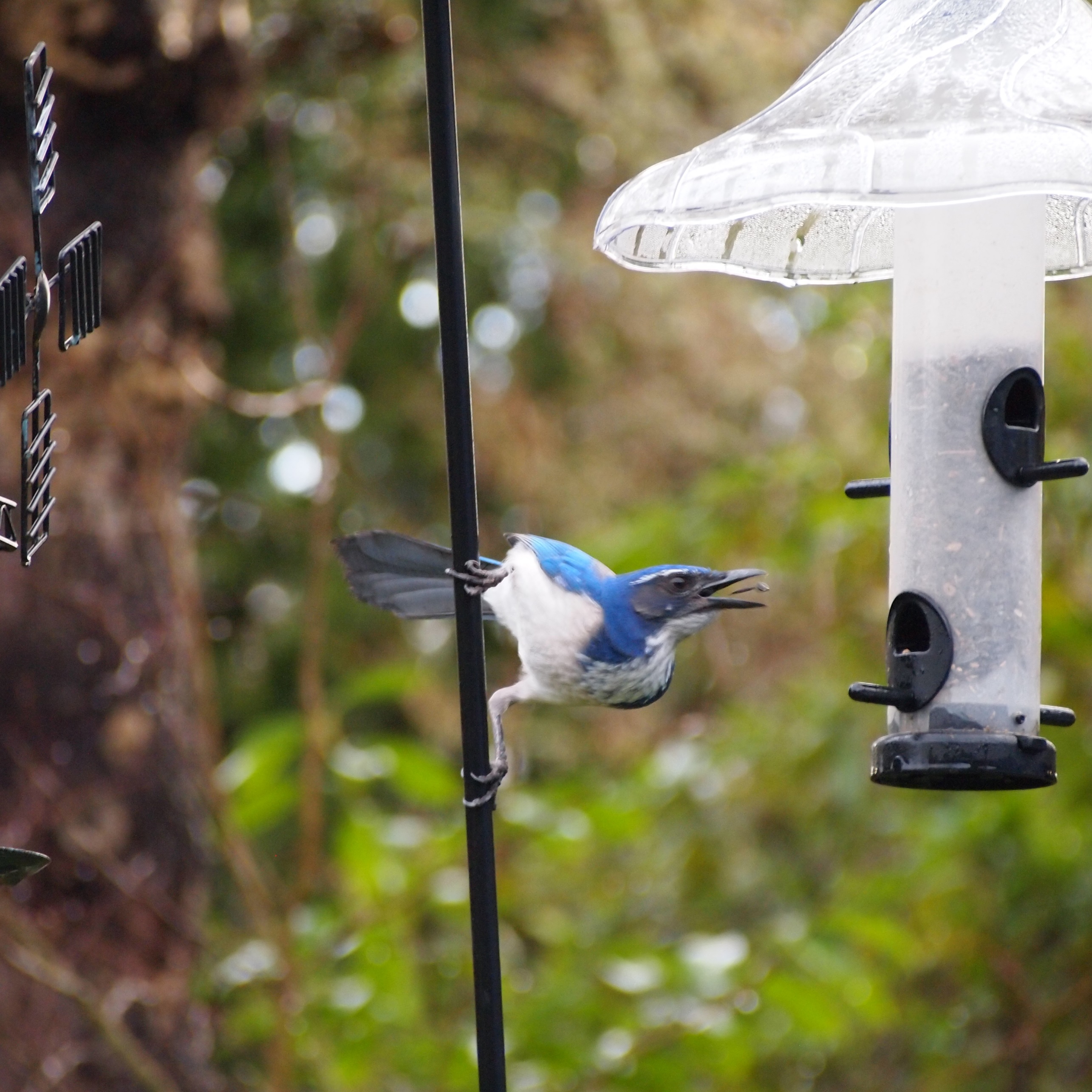 Momence, Illinois
February 3, 2016 8:37am CST
Every morning while I was in Oregon in the middle of January, the birds would come to the feeders in my sister in laws back yard. The blue jays in Illinois are pretty skittish when it comes to being around humans. But they sure don't have a problem with vocalizing. I remember as a kid in school there was a blue jay in the tree outside my classroom that would squawk all day, in a very noisy way. Since I started doing photography I have learned how hard it is to get a good shot of birds in the wild. They never sit still for long. One morning sitting in my sister in laws back yard in Oregon a Scrub Jay was in a tree watching the other birds at the feeder. My sister in law said the feeder in question was to small for the Scrub Jay to land on it and feed. But she just knew it was getting seeds somehow, but she didn't know how. Finally after sitting quietly for some time this Scrub Jay came to the feeder. Now she knows how he does it. If you enlarge my photograph look between its open beak and you will see the seed he is getting ready to eat. I clicked at just the right time.
7 responses

• Eugene, Oregon
3 Feb 16
That really is a great shot of the jay. They are pretty smart. I work part-time at a birding store here in Eugene and feed the hungry ones too.

• Momence, Illinois
3 Feb 16
I am pretty happy with this shot. I sat there for a while hoping one would come down from the trees.

• United States
6 Feb 16
That is an impressive photo, yes birds are so hard to capture and you have done an outstanding job.

• Momence, Illinois
6 Feb 16
Thanks didn't know I caught the seed going in until I loaded it onto a computer

•
4 Feb 16
oh what a fabulous picture. yep. so hard to get those great shots of birds.

• United States
4 Feb 16
Again, another great capture. I don't see Jay's often.

• Momence, Illinois
4 Feb 16
We don't either in my neck of the woods, I was thrilled to get this shot.,


• Momence, Illinois
3 Feb 16
They are such a pretty bird. Love the blue. Thanks I was at the right place at the right time, and my finger was actually in tune as well .


• Momence, Illinois
3 Feb 16
Thanks so much for saying so. I am pretty happy with this capture.


• Momence, Illinois
3 Feb 16
You think? Hmmm interesting idea, however rather share here. Thanks so much I am pretty pleased with it.