Walls of Kindness

3 responses


• Northampton, England
7 Feb 16
Why don't you tell us what those 'Walls of Kindness' are since many of us don't know.

•
7 Feb 16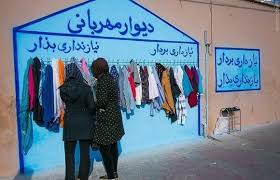 In some of the major Iranian cities this " Walls of Kindness" initiative has been taken. Basic needs of humans are Food & Clothes. There are many poor people who can't afford to buy clothes and there are many rich people who buy clothes uses them once or twice and throws away. In this initiative all the citizens were requested not to throw the unused clothes but instead hang on those walls in public places so that the poor who can't afford to buy can use these clothes and fulfil their need of clothing. These walls where they hang their unused clothes are called " Walls of Kindness". The people inspired by this are also giving the other basic needs like unused old footwear etc.

• Bulgaria
7 Feb 16
this is a very good initiative and I hope all over the country to do good. Good always conquers evil. Good luck friend of your country and I hope everything is always good!