Neopets Secret Ninja Training Academy: Codestones Required!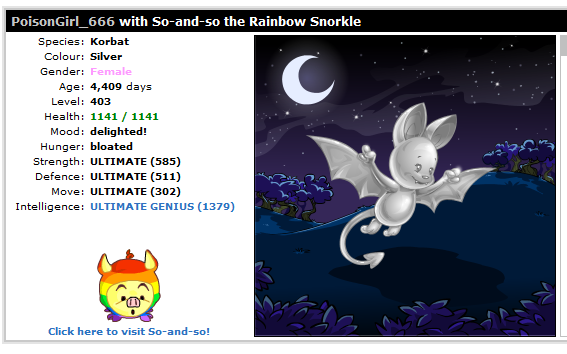 United States
February 20, 2016 9:39am CST
So you wonder what the red Codestones are used for (outside of bartering, selling and gifting that is) but no one is giving you the info you want about them. If your pet is old enough and seasoned enough, they can train at the Secret Ninja Training Academy. My active is there a couple times a day although I wish she would lose two levels so I could train with two Codestones for four hours instead of needed three Codestones to train for eight hours. The number of Codestones you will need will depend on your pets level, the higher the level the more Codestones you will need and the longer the courses will take to complete. You won't know which of the Codestones you will need to have to train until you select a course. Some of them are in the 30K range at the moment so if you don't have a cache of them saved up it can get expensive. You do have the option to back out of a training session without having to pay a fee but you will have to wait 24 hours before you can return to train there. Where do you get the Codestones? You can find them as Random Events, win them at the Battledome, buy them from players shops, visit Techo Mountain to swap brown Codestones for red Codestones or trade them for other items on the Trading Post. The prices are always fluctuating so you need to check the prices before buying or selling. Outside of getting random faerie quests (or buying a Faeries Quest Fortune Cookie) or bonuses from doing things like The Coincidence or cooking pot recipes, training at this academy (and with lower levels at other schools) is one of the best ways to boost your pets stats. I never thought that I would ever get a pet to a 1,000HP level but I managed that last year, now she's at 1,141HP and climbing. Do you game at Neopets? If so, do you train for the Battledome? Have you purchased weapons from the Hidden Tower? Techo Mountain Codestone Exchange http://www.neopets.com/island/volcano_codestone.phtml Secret Ninja Training Academy http://www.neopets.com/island/fight_training.phtml Image: My active pet PoisonGirl_666 Neopets Images © 1999-2016 Neopets, Inc. All rights reserved. Used With Permission.
2 responses

• Singapore
21 Feb 16
Back during the time I played Neopets, I did train my pets in battle dome and codestones went for about 2000-7000 neopoints each. I wonder how things have changed now.

• United States
21 Feb 16
It depends on if you are buying the brown ones or the red ones; the last time there was mention of a war people started training like crazy and the price on both of them went through the roof. If you can remember your login info you should go check out what you have in your SDB - you might be sitting on millions of NP LOL

• Singapore
22 Feb 16
@freak369
I see lol, can't do since I've my account got hacked when I left it unlogged out at school more than a decade ago and I lost 10 million neopoints.

• United States
20 Feb 16
I have never gamed at all. But, Neopets does sound like a game I would enjoy. My husband and son are big gamers, but not Mom.