Mission to Mars in 2030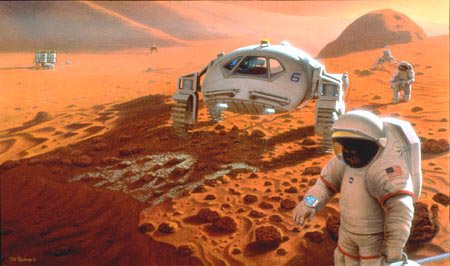 Tegucigalpa, Honduras
February 25, 2016 9:39am CST
Without doubt, Mars is the planet that more curiosity gives us all, not only because it is a neighboring planet, if not because the hopes of mankind to a total destruction of the earth would be to live on this planet, but for that obviously need to know if the human being is able to withstand the environment that are there, without doubt we love to know about the unknown, but more than anything else the expectation present in the mission prepared by NASA to colonize Mars in the year 2030 is the best, as I imagine that all the attention the whole world this unprecedented event, it will be an unforgettable moment to see a human being in the Red planet , I look forward to 2030.
4 responses

• El Segundo, California
27 Feb 16
in fact, there are now candidates for that mission.

• United States
27 Feb 16
I heard that
@trivia79
and isn't Lady Gaga , an American performer, scheduled to be part of some Mission to Mars or was that a rumor ?

• Calgary, Alberta
27 Feb 16
I think you are talking about Mars One, They were different from NASA. NASA will send people to Mars in 2030 while Mars one will send people in 2018.

• El Segundo, California
1 Mar 16
@enlightenedpsych2
maybe, more of a rumor. hahaha! i think a lot of bashers of lady gaga want her to disappear here on earth that's why they came up with that humorous idea hahaha






• India
2 Jul 17
just 13 years remaining. I am so excited. most probably I would see this happening in my life time

• United States
26 Feb 16
Good for you and so do I . . . look forward to 2030 ! Nice to meet you
@darkfran85
and thanks for sharing this interplanetary tid bit