Finished Pressure Washing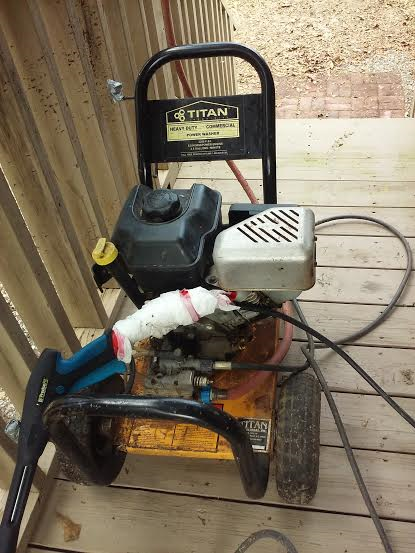 United States
February 29, 2016 5:55am CST
My brother could not pull on the pressure washer any longer after he hurt his back. He waited a few days, and then borrowed a pressure washer from a friend, and finish pressure washing my home for me. I am thankful he was able to get it finished before our company arrived on Saturday, but he was out there Saturday morning finishing up. It looks so much better now. We still like a bit more yard work to do yet, to get it ready for spring. We will work on it a little at a time, though, but it will need to be completed before everything starts greening up. I still need a bit of pruning (cut out old dead part of Pampas grass and reshaping it). I also need to clean out my vegetable garden and get it ready to plant on Good Friday. There are always so much to do.
6 responses


• United States
3 Mar 16
I have to clean the weeds out before I can plant as well.

• Switzerland
3 Mar 16
@slund2041
This is one of the garden works that I like least, but it must be done.

• United States
3 Mar 16
@LadyDuck
Yes, it must be done and I cannot stand that chore either.

• Bunbury, Australia
1 Mar 16
There is never a shortage of chores if you have a garden. What will you plant in your vegetable garden?

• United States
3 Mar 16
I am planning on planting Tomato, Pepper for sure. I will probably plant something else, but not sure yet. Are you going to plant a garden?

• Bunbury, Australia
4 Mar 16
@slund2041
I am picking watermelon and butternut pumpkins at the moment. We also have basil, parsley and garlic chives. I need to plant some more of something though. Oh and we have a tomato bush or two.

• Philippines
3 Mar 16
It's a good thing you were able to borrow a pressure washer from a friend . It lightens the work really , which should have been a tedious one . The wonders of technology .


• United States
3 Mar 16
Pressure washers are a great tool that works well most of the time. Much better than scrub brushes, buckets and hose pipes.


• United States
3 Mar 16
Yes, I have only gotten to the outside. I am going to do some inside spring cleaning this weekend.

• United States
29 Feb 16
I used to pressure wash everything, but it really does cause my back to ache pressure washing the patio, garage floor, and sidewalks. Now, the pressure washer just sits in the garage because I have decided to go for the "rustic" or "old-world" look. Works for me.

• United States
29 Feb 16
My husband cannot stand the green on the house, and that is why it needed to be pressured washed,


• United States
3 Mar 16
I will be happy when I get all the weeds pulled and my flower gardens fixed up.