As accompany a lunch? Soda, beer, wine, juice or water?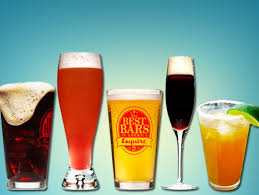 Santa Rita, Venezuela
March 3, 2016 10:32pm CST
I've noticed that when I go to a restaurant, people always order drinks according to the dishes they ordered, for example wines accompanied by red meats, beers are always good with a cookout or bisteck. But I've also seen some tradition without paying attention to the dish, then my question is simple: Soda, beer, juice or water? which you prefer ... But you can only choose one.
7 responses

• United States
4 Mar 16
I am out I guess because I like all of them.


• Toronto, Ontario
4 Mar 16
I usually order gingerale or water to be honest anywhere I go.

• Ireland
4 Mar 16
In a restaurant setting I often go for iced tea or juice, maybe a hot drink if it's awfully cold. However when it comes to fast food it's either minerals or plain water. It's hard to choose just one, since not everything goes with every type of food, except water that is.

• Santa Rita, Venezuela
4 Mar 16
The juice is winning ladies and gentlemen!

•
9 Mar 16
I'd go for water because it's cheaper, unless it comes free. If it's free, then I'll have some juice.