Our Rescued Pup ... How He Became She ... She Became To Be Camie Leigh Bates!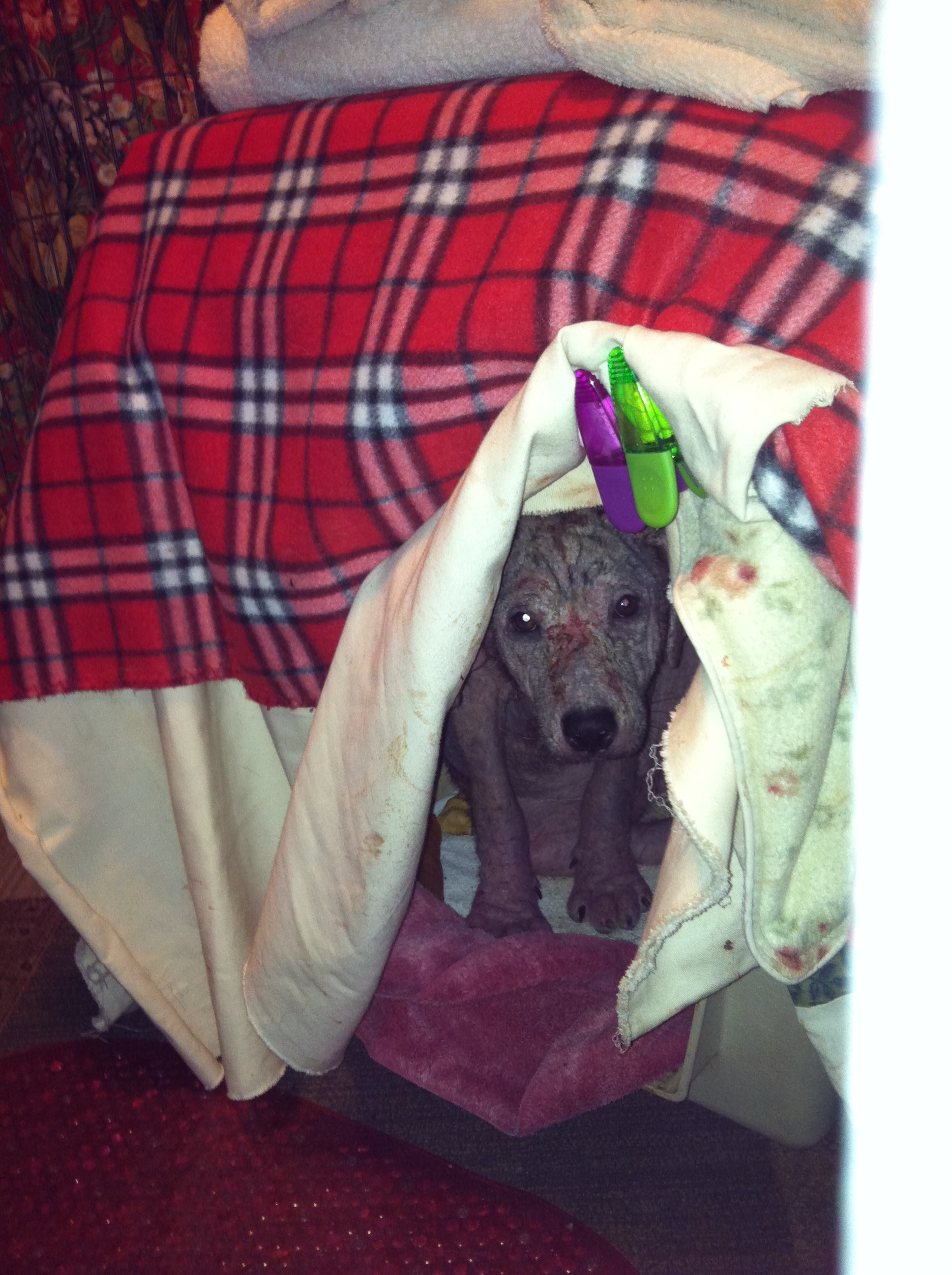 Louisburg, North Carolina
March 12, 2016 10:34am CST
This Is How He ... Became She ... She Became Camie Leigh Bates! Camo ... Precious Camo ... Camie ... Camie Leigh Bates. All are names that were given to a small puppy who used to run the neighborhood. Camo came to our fenced-in yard to run up and down the fence line with our Rottie ... Kissy Fairchild. Camo would wear Kissy's butt out ... we would have to make him come inside. He would be foaming at the mouth ... and it took time for him to recover from such running. Not only that, he would bark the whole time. We didn't want him to run like that ... but, it would happen. Camo, the puppy would come to 'run him' ... when Camo got tired ... Camo went home. Camo lived with people in the neighborhood. Camo played with the children all the time. Camo looked just like the name ... camoflaged. Skip became attached to Camo. I told him I wasn't going to get attached ... I hid the fact that I already had become attached. I worried about such a young puppy running wild, crossing the highway .... coyotes and other wild animals hurting it. I didn't know how attached I was to the puppy named Camo ... I was going through the grieving process ... I had lost my only child, my son ... Tommy. Life wasn't good at all for me ... I lived in darkness ... I stayed to myself. I can't even begin to describe what I was experiencing. It's a wonder I even noticed ... a little puppy ... and I am a big dog-lover. One day ... Camo didn't show up. Well ... I noticed that Camo didn't come to play with Kissy. A second day went by ... I noticed Camo didn't come again ... I felt sick in my stomach. A wild animal has gotten Camo ... I know it has, I thought. The third day went by ... I began crying for Camo. I had fallen in love with Camo never meaning to. I needed to know what happened. I knew Camo was dead. Skip was on a trip on the big truck. I was telling him on the phone that Camo had quit coming ... I began sobbing. I told him I knew something had gotten Camo. I told him I was going to find out what happened. A short time later after the call ... Kissy began barking something furious! I ran to the door, went out on the porch. Who stood in the driveway? Camo! I began talking to her ... she ran away. She ran away back to where she lived. It was so strange ... normally ... Camo would come to me ... Camo didn't that time. I began to have a strange feeling ... something's not right. I saw the children in the distance playing .... I built up the courage to ask about Camo. You see, I never saw the children play unless Camo was playing, also. Something's not right. I walked up to a little boy, asked him about Camo. He pointed out to the back of the house ... saying Camo was almost dead. Camo had been dying for the past several days. Camo had the mange ... I had tried to help Camo prior. So, Camo must have gotten so much worse. I asked the little boy to ask his mother if I could have Camo. He seemed surprised I would want a dying puppy. He said his dad was going to bring a shotgun home to kill Camo. Camo was that close to death. I went ahead, called the mother. She said, "I'll have to call my husband to see if he'll let you have Camo." I asked her to please do that. I was stunned .... Camo was almost dead ... and she had to ask if I could have the puppy. I hadn't seen Camo ... yet. An hour later ... the phone rang. The woman told me that her husband said I could have Camo. Well, without thinking I went out the door ... didn't even think about getting the pickup .... walked to the place where Camo lived. Mind you ... I'd had not one ... but, two thoracotomies (thoracotomy ... you can Google it ... major surgery). I never thought about me ... my mind was getting Camo to my home before someone changed their mind. The little boy took me to the edge of the woods where bricks/blocks were laying. There was the little puppy laying there on the cold, wet ground. Oh my God ... her skin had no hair ... clear fluid was oozing from the puppy's skin. Camo was almost dead. I asked the little boy if he had an old towel or something to pick Camo up with. No, he couldn't find one. I made the decision to pick up Camo ... I meant to take Camo home with me. I picked up Camo, knowing I would cause pain. I prayed that Camo would forgive me ... once I got the puppy home ... I would make it up to Camo. Maggots fell from the little puppy's body as I held it close to my chest. Pain shot through my body, my chest from the past surgeries I had ... had. I was in such grief for my son ... for the little puppy who felt as if it weighed a thousand pounds ... it helped to make me go past the pain to do what I had to do. I didn't care about the maggots ... my 'good' clothes. I meant to get Camo home ... if Camo was going to die ... she damn sure wasn't going to die alone. I was going to do my best to save this precious, little puppy. I began to cry as I began to walk to get Camo to my home ... I wasn't strong enough. The pain was horrific in my chest ... my knees were bent. In my mind, I begged God to just please let me get Camo home. I got near our driveway, happened to look back ... the little boy was behind me! The little boy asked me if I wanted his tee shirt. I thanked him ... realized the little boy had been hearing me cry, pray to get Camo home. I saw compassion in the little boy's eyes. He went back home. I felt as if I was going to sink into the ground ... across the driveway to the fenced-in yard/gate seemed a million miles away. I couldn't carry Camo any farther. Please God ... please help me get this baby to the porch inside the fence! Please help me! The next thing I was aware of ... was closing the gate behind me ... making it up on the porch with Camo. I already had a portable fence in place to put Camo ... because I knew our Pups would be upset with the puppy 'inside' the fence. Somehow ... my prayers were answered. I got Camo up on the porch. I had a huge kennel cab already in place ... soft bedding inside for Camo. You see ... in my mind ... I was going to be prepared just in case ... it's my nature. Don't ask me why ... I've always been like this. I sat beside Camo ... trying to think out what to do for the little puppy. The puppy was in a bad way. I told the puppy in a soft voice that if it was going to die ... I would be by its side. I began caring for Camo that weekend ... got the portable fence inside the house in the kitchen ... beside the door with the pet door. Camo began to get up ... I pulled the fence to the other side of the door so, Camo could go outside alone. Camo had the best ... hospital room ... a puppy could ever have. I made the kennel cab cozy ... changing the white towels every few hours ... skin with the oozing clear fluid, and blood, would soak into them. Camo had fresh water, food ... I put colorful, soft blankets on the outside of the kennel cab to make sure Camo stayed out of a drought, stayed warm. Camo had the cleanest, nicest hospital area ever. I doctored her faithfully every day, all through the days for many months. This is where Camo began to be house-trained at the same time as to move about getting stronger all the time. Camo never 'messed' inside the house. I stayed with Camo 24 hours a day for 2-3 weeks ... I slept close by. I got up every 2 hours if I slept ... to make sure the puppy could go outside. After that, I would only be gone short periods of time until months went by. Camo drank lots of water ... began to eat a tiny amount of food. Just a few days after saving Camo ... I began a GoFund Me account to ask for donations to help Camo. I got Camo to Louisburg Veterinary Clinic that is close to us. Dr. David Fontenot has been Precious Camo's/Camie's vet ... and Kissy's vet since. He and his staff know our Pups well. We love all of them. People were sending money on GoFund Me ... and directly to the vet's office. I was so overwhelmed, thankful. One person whom I call 'Camie's Angel' (I published a book ... Camie's Angel) made sure Camo always had money on the account to take care of all the treatments, medicines. Months passed. Camo's hair began to grow back little by little ... her skin began to heal ... Camo looked like a little, gray alien. Camo had demodectic mange. Demodectic mange is an awful medical condition .... only medical attention by a vet ... can help an animal with this. You wouldn't believe how horrible it can be. It will kill if left untreated. You can Google this to learn more, see the most awful photos of what it can do. People put motor oil, and crazy mess on dogs making them suffer in the most horrible way ... they've been brought up to do this to 'cure' mange. Demodectic mange is a different ballgame. You need a vet to treat it. Don't put motor oil, and other stuff on it ... only put what is specifically for it on a dog. During that time I discovered Camo wasn't a boy .... he was a girl! Camie's Angel was 'always there' when no one else was. We are always forever grateful, thankful. Later ... when Kissy needed surgery ... Camie's Angel and their friends made sure he had all he needed. Camie's Angel told me that Camie would be a special name to call Camo ... that Camo didn't need to be hiding/camoflaged anymore. It seemed so right to call Camo ... Camie! Even Camie's leash is pink ... camo! Our vet chose that for her ... it was fitting! I made a Facebook page online for Camo some time before this. I had already called the page .... Precious Camo. Later ... Kissy became a part of her page when he needed surgery. You can go there to see photos from the beginning ... when I rescued Camie on July 4, 2013. Link to see Camie's photos: Facebook.com/camocameobates Everyone cares about Camie and Kissy ... and I update/manage Precious Camo/Camie's and Kissy Facebook page daily writing, photos. When we need help with medical treatment, vet, medicines ... people help us by donating directly to their vet in Louisburg where we live. I always post the Invoices on their Facebook page ... and invite everyone who donated/donates to call directly to the vet's office to talk with them, ask questions. This way everyone knows where their money goes ... I'm most open. We have always been very grateful, thankful ... we could never have paid for all's been done to help Camie, Kissy. We never ask for help unless something happens and it's desperately needed. You can see how the little puppy named Camo became to be called ... Precious Camo ... Camie ... Camie Leigh Bates! She's a pure miracle. This is how he ... became she ... she became Camie Lee Bates! Note by this Author: True story/photo owned, written by Gloria Faye Brown Bates/aka Granny Gee.
4 responses

• United States
12 Mar 16
Thanks for sharing this beautiful story. I sent a request to follow on facebook and also a friend request. Have a blessed day

• Louisburg, North Carolina
12 Mar 16
I'm honored, and will go straight away to accept.

• Louisburg, North Carolina
12 Mar 16
@Dena91
I accepted you both on my Facebook and Camie and Kissy's Facebook.



• Louisburg, North Carolina
12 Mar 16
That's okay if you don't have time to read my long story. Sometimes, I love to read long things and at times, I simply don't have the time. I am going to enjoy reading here as this isn't a job to me. Sometimes, it is fun to. I know you love your dogs, too!


• United States
12 Mar 16
@GrannyGee
Thanks for understanding as it does take me some time to read long stories then I feel I am losing out on others. Yeah my babies just came inside again.

• Louisburg, North Carolina
12 Mar 16
@Marcyaz
Oh I really do!

Sometimes, I enjoy reading long ... sometimes, I have other things to have to do. Our babies are in the kitchen with Skip ... hoping for a tidbit!

• United States
12 Mar 16
What a wonderful story you have shared with us! Angels taking care of angels.

• Louisburg, North Carolina
12 Mar 16
I'm honored you would say that. She saved me without me realizing it while I was focused on saving her.

•
30 Apr
@GrannyGee
I am crying while reading this. You are a good person and thank you for what you did for Camie/Camo. I hope you are ok and what you had to deal with was horrible and here this pup came into your life at the right time.