Daily Bible Study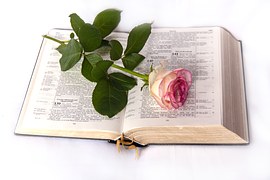 Green Bay, Wisconsin
March 24, 2016 12:02pm CST
Day 5 Psalm 5 Psalm 5:1 < Give ear to my words, O LORD, consider my meditation. 2 Hearken unto the voice of my cry, my King, and my God: for unto thee will I pray. 3 My voice shalt thou hear in the morning, O LORD; in the morning will I direct my prayer unto thee, and will look up. 4 For thou art not a God that hath pleasure in wickedness: neither shall evil dwell with thee. 5 The foolish shall not stand in thy sight: you hate all workers of iniquity. 6 Thou shalt destroy them that speak leasing: the LORD will abhor the bloody and deceitful man. 7 But as for me, I will come into thy house in the multitude of thy mercy: and in thy fear will I worship toward thy holy temple. 8 Lead me, O LORD, in thy righteousness because of mine enemies; make thy way straight before my face. 9 For there is no faithfulness in their mouth; their inward part is very wickedness; their throat is an open sepulcher; they flatter with their tongue. 10 Destroy thou them, O God; let them fall by their own counsels; cast them out in the multitude of their transgressions; for they have rebelled against thee. 11 But let all those that put their trust in thee rejoice: let them ever shout for joy, because you defend them: let them also that love thy name be joyful in thee. 12 For thou, LORD, wilt bless the righteous; with favor wilt thou compass him as with a shield. How do you pray? Are your prayers full of praise to God? Are they prayers of need? Are they thankful? Do you talk to God as you would talk to a friend? David's prayer isn't one that wants the destruction of his enemies. He isn't asking God to grant him his heart's desire. Instead, the prayer David prayed was an intimate look at his relationship with God. When we talk with our friends, we want them to listen to what we say. David makes the same statement to God. He wants God to listen to him, to hear his words. David's prayer is a cross section of worship, praise, request, and acknowledgment of God's blessing on his life. He acknowledges the character of God in not having anything to do with wicked people, and asks that God deal with them. Similarly, he acknowledges God's faithfulness to all those who put their trust in him, and lets God know he will call on God in the morning and go to God's house to visit with him. David's intimate portrait of his relationship with God should be how we interact with God as well. When Jesus prayed, his prayers were intimate. John 17 shows us that intimacy close up. We see the bond Jesus had with God, and we see they are one. We can have the same bond with God and our Savior Jesus Christ. When you accept Jesus as your personal Savior and Lord, you have the opportunity for the godhead to live in you, to guide you, and be intimate with. Colossians 2:9 For in him dwells all the fullness of the Godhead bodily. It's time to get intimate with God. Don't just say you have a personal relationship with Jesus Christ, live it as David did, having personal intimate conversations with God, acknowledging God's character, his strength, your weakness, his faithfulness, and your trust and faithfulness in his ability to take care of you. David spent a lot of time on the battlefield, and when his troops wanted him to turn and run, he encouraged himself in the Lord. He could do that because of his intimate relationship with God. When Satan comes at you, wanting to steal everything you hold dear – your family, encourage yourself in the Lord Jesus Christ, and Satan will flee from you. There is nothing Satan hates more than a person's intimate relationship with Jesus Christ. Let's pray: Father, let my life be one of intimate fellowship with you, acknowledging your faithfulness in my life, and trusting you to take care of me as I encourage myself in you. In Jesus' name, I pray, amen. Image courtesy of Pixabay
4 responses

• Luxembourg, Luxembourg
24 Mar 16
My prayer is mostly like thanks giving for everything. very rarely with requests.


• Luxembourg, Luxembourg
24 Mar 16
@just4him
yes.true.


• Ireland
24 Mar 16
one thing that puzzled me about David, is his relationship with Bathsheba. surely he knew what he was doing was wrong, so why didn't he pray like he always did to remove the feelings before it was too late for him?

• Green Bay, Wisconsin
25 Mar 16
I really don't have an answer for that, except to say man is easily tempted. It took David a long time before he came close to God again after his temptation. He expected a harsher punishment than what he got. You can see his response to what Nathan told him in Psalm 51. Here's a thought - Would you believe David to be a fact of history if he was perfect? People associate with people who aren't perfect better than those who think they're lily white.

• Ireland
25 Mar 16
@just4him
It is one of the things that always puzzled me. I guess he briefly lost it for a bit. Consequently he became a story of grievous sin and extraordinary forgiveness. Didn't they find his palace somewhere in a dig in Isreal.

• Green Bay, Wisconsin
25 Mar 16
@Drosophila
I'm not sure if they did or not, but it wouldn't surprise me if they did since I think I heard they finally acknowledge he was a real historical figure and not myth.


• Rochester, New York
24 Mar 16
I do pray a lot before bed. I give thanks for all that I have and ask for protection for my loved ones and friends.

• Green Bay, Wisconsin
24 Mar 16
That's a wonderful thing to do.

• Holiday, Florida
24 Mar 16
maybe I just don't pray and worship as I should. I try but guess I don't know how. I used to. not sure what has happened

• Green Bay, Wisconsin
24 Mar 16
I've been there. You just determine to start where you are and meet with God as you would a friend. It gets easy after a while.