Businesses can think about selling fresh air to people in polluted Chinese cities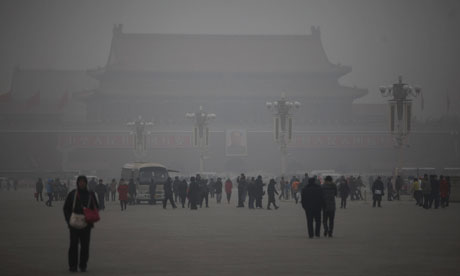 Singapore
March 26, 2016 8:15am CST
The cities in China are so polluted that the people are literally dying. They suffer many health problems. When you look out of the window, and everything appears grey, you know that the air is hazardous to health. The factories in China do not have stringent control of waste management. The cars in Chinese cities are numerous and cause air pollution. I think when a company finds a way to sell fresh air cheaply, it will become a multi-billion dollars within a year. The only way for residents to avoid breathing in too many pollutants is to stay indoors. That is not possible when life has to go on. image credit: http://www.theguardian.com/sustainable-business/throwaway-culture-destroying-freedoms-china
6 responses

• Adelaide, Australia
29 Mar 16
I'm not sure what the gap between rich & poor is there, but those who can afford it buy up on quality air purifiers. All the bigger companies have these now. They really do a good job of it too. I remember reading a news article about a guy in Canada selling his fresh mountain air to the Chinese for $25 a can on eBay! He got the idea from a guy in Singapore who did much the same thing. It's actually very easy & cheap to clear the air in China. It has been done in California, Hawaii & Malaysia many times in fairly recent years by the same guy, using just a Chopper & a long hollow metal tube sealed at one end. I know how to do it too, but the government there won't let me help.

• Singapore
29 Mar 16
It is hard to clean up the air in the city. Even if you can get clean air in the office and home, you still have to endure the hazardous air at home. There is a limit to the power of purifiers. The more purifiers you use, the more electricity you consume, and since many Chinese cities rely on coal to power the electric plant, the more coal they use, and it ends up in the air. It is a zero-sum game. The only way is to stop coal burning.

• Singapore
27 Mar 16
I hope that this coming mid year we won't be experiencing the haze from Indonesia again. Last year was bad...


• Singapore
27 Mar 16
Last year was bad, and I hope that the wind will bring the haze into the ocean, and not to our country. Indonesia is too big for the government to manage properly. Once a fire starts, it will burn out of control in this kind of weather.

• United States
26 Mar 16
I read that even small children are contracting lung cancer due to the pollution in China. Exposing children to the dangers of pollution is a sad thing indeed.

• Philippines
26 Mar 16
I can't really live in a place as polluted as that. This is why I chose to buy house and lot in a place where air is fresh and I also planted trees and plants around my house to make the air fresher and cooler. If I have a way, I will sell fresh air in China.


• Singapore
26 Mar 16
The Chinese government succeed in clearing the smog for just a few days a year when Beijing is ready to host some major events. They have to undergo a major economic change before the air is clean. The plus side is that all those government officials are breathing in the same polluted air.

•
20 Oct
so sadly . Make try environment safely and wear mask. and make sustainable environment. stop pollution type which increase difficult breathing . carefully.