Lamb with a Flag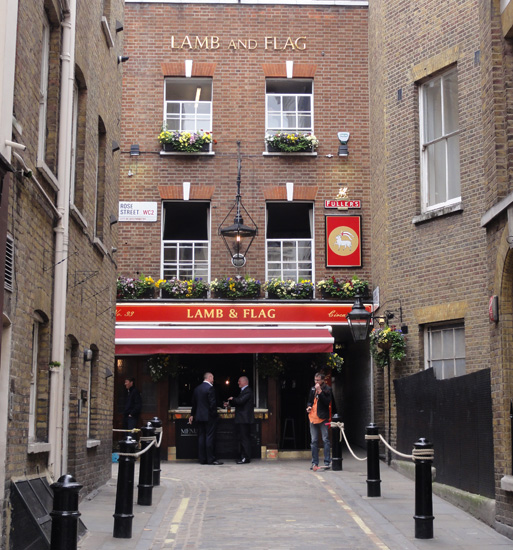 London, England
March 28, 2016 11:55am CST
The Lamb & Flag pub, in Covent Garden, is one of the few timber framed buildings to survive in Central London, having been built in 1623 and has been a pub since 1772. It was known as the Bucket of Blood, because of the bare knuckle prize fights that took place here. The name Lamb & Flag comes from the Gospel of St George 'Behold the lamb of God', with the flag being that of St George, England's patron saint. The interior is dark, aged, worn, wood and narrow staircases with a friendly atmosphere. They serve a most excellent pint of Directors ale, not that it was around when Charles Dickens was a regular customer. Tucked slightly out of the way it can be difficult to find, but is well worth the effort for a meal and a drink.
8 responses

• United States
28 Mar 16
A lovely place Ron. It would be a lovely visit there. It looks familiar to me.


• United States
28 Mar 16
@Ronrybs
Yep cant recall all the places I was, but I do recognize it Ron.

Nice for me to see the old places.


• London, England
28 Mar 16


• Los Angeles, California
28 Mar 16
Nearly 400 years old. Only in Britain. Is it near any of the West End theaters?

• Los Angeles, California
28 Mar 16
@Ronrybs
I have been all around the area but not being a pub person, I don't pay attention to them.

• London, England
28 Mar 16
@JohnRoberts
It is tucked away down a little street and a narrow alley at the other end. Blink and you'd miss it


• Paradise, California
26 Aug 16
That is a cool place! I would love to go! I want to go visit England. I have a couple of good online friends there. My son got to go to London for a week once, with a friend. They had such a good time, even went to the ballet - that I was surprised about! His friend's girlfriend was a ballet aficionado. I never did find out what my son wore there.

• United States
30 Mar 16
A strange name (I understand the John 1:29 part), but cool having a pub built 1623! Are there any aged beverages there? Fat chance. I'd love a swig.


• Denver, Colorado
28 Mar 16
Sounds like a pub I'd enjoy. I do prefer Bucket of Blood, however.

• Bunbury, Australia
19 Apr 16
It looks like it is tucked away a bit but still a flash entrance.