Tattooed Old Lady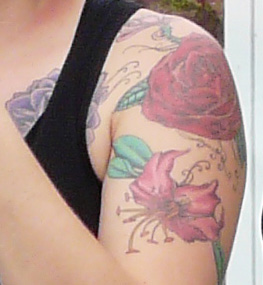 Nevada City, California
March 29, 2016 5:04pm CST
Whenever people see a beautiful young woman with a tattoo, they always say the same thing. Just think how her tattoo will look when she is old! I don't know that I agree with that point of view. I think if I'd gotten a tattoo when I was 25, by the time I was 70 I would be OK with it no matter how it looked. After all, my skin would be saggy and baggy anyway, what's the difference if it has a tattoo or not? For young people it seems to be fine for anybody to have a tattoo. Every soccer mom you see has a butterfly or a rosebud somewhere. It does not seem to carry the stigma it once did. The other day I was shopping at a thrift store, and I saw a woman in there who was 70 if she was a day. I could see that she had a large and quite detailed tattoo on her back and shoulders. Also, on the sides of her face she had some little swirly designs. They looked quite sharp and fresh. In fact her tattoos looked new. The way she was dressed was very bohemian, and somehow the vaguely tribal tattoos seemed fitting on her. I wondered if she had just put them on at this late stage in life. Now I wish I'd gotten a picture of her, it seemed rude to ask her though, and even ruder to take a photo without asking. I am pushing 60 myself, and I don't have a mark on me. I don't judge others who want tattoos, but I don't think I will be getting one.
10 responses



• Philippines
30 Mar 16
I never liked tattoo and never will like it. I find no beauty in staining the skin.

• Philippines
31 Mar 16
@norcal
i don't judge those who have them. They can do whatever they want to their skin. I am speaking for myself.

• United States
30 Mar 16
Unusual that lady you talked about. Tatoos, schmattoos, who cares today as you say it is no longer stigmatised only to the very conservative.

• United States
30 Mar 16
@norcal
Yes they all seem to have them now no matter what walk of life Sherry. I have even seen tattoo sleeves to put on lolz

Not real tattoos but a sleeve printed out haha


• Canada
30 Mar 16
I also choose not to have tattoos for myself. But when they are tastefully done, I can appreciate them on others. Sounds like this lady's tats suited her well.

• Eugene, Oregon
30 Mar 16
I just never had the desire to get one, even when I was in the service. I am getting used to seeing them everywhere though.

• Colorado Springs, Colorado
29 Mar 16
It's never too late to get one. Problem is, once you get one it's hard to stop. You start to see everything as a potential tattoo.

• United States
29 Mar 16
I suppose if the tattoo is pleasing to the owner's eyes, then no problem. However, many owner's moms would not be pleased. I am a mom that would show my disgust if my adult son sported a tattoo on his handsome self. I worked hard at keeping that beautiful person looking good and a tattoo would ruin all that hard work.

•
29 Mar 16
I'm now heading for 36, no great age I know, but I have 5 tattoos, all of which i got by the time I hit 20. My first I got for my 18th birthday, it was a present from my mum. When she asked what I wanted, I told her a mermaid tattoo and she thought it was an amazing idea, something I would have for the rest of my life, something that I could not lose, break or sell (in times of hardship etc...). All of my tattoos have aged well since they are now coming up for being around 16-18 years old, but could possibly do with a re-colour, as they do fade over time and the colours aren't so bright after being there for so long. They are all in places that I can show them off or hide them easily if I so wish, and each one was chosen carefully so that I would love them my life through. And yes I do still love all 5 of them :) It doesn't matter to me if they sag with age, it's not as if the un-tattooed parts of me will remain firm forever Ha! Good for that lady who has tattoos in her 70's, good for her that she has the confidence in herself to show them off proudly. It's her body, her life and only she needs to be happy with it :D And yes, shame you didn't pluck up the courage to ask if you could take a photo.

• Nevada City, California
30 Mar 16
I'm glad you still like them. I haven't heard many people say they regret their tattoos. You are right about the photo. That lady would probably have been flattered that I wanted a picture. The photo I used here is of a young lady at my daughter's wedding.

• United States
22 Apr 16
Tattoos. I think I should not comment on them. But part of me says I should. So I'll say something minimal. Don't forget to ask yourself how would the one feel who made your body if you feel dissatisfied with it as it is?