I am disappointed to the New Star Wars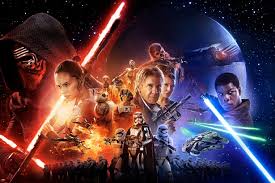 Guangzhou, China
March 31, 2016 9:30am CST
Yes, I know I am late to watch it. I have to say that I feel disappointed to watch the New Star Wars. I don't have the exciting feeling like before when I watched the Star Wars. I can't really say what's wrong with it. I just think this movie has become to be an ordinary science fiction movie rather than the classical one. By the way, I can't believe that Han Solo died in this movie. Perhaps I missed some parts of this movie series as I don't know why his son would become evil? Besides, Luke just showed up for no more than a minute!
3 responses

• Westland, Michigan
31 Mar 16
For my wife and I, we thought it was as good as what we imagined. We did not think that it was awesome, but it takes a lot to make it on the awesome list for my wife and I. To make it on the awesome list, it must be a new type of story line. My wife and I are interested in seeing how the Luke training story line will develop.

• Boise, Idaho
31 Mar 16
Life is just that way. A good book or series usually has some of the major characters die off.

• Boise, Idaho
1 Apr 16


• United States
31 Mar 16
My husband and son were not impressed by this movie either.