Daily Bible Study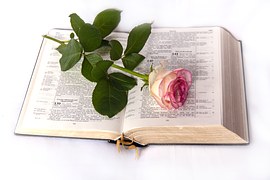 Green Bay, Wisconsin
April 1, 2016 11:26am CST
Day 13 Psalm 13 Psalm 13:1 < How long wilt thou forget me, O LORD? Forever? How long wilt thou hide thy face from me? 2 How long shall I take counsel in my soul, having sorrow in my heart daily? How long shall mine enemy be exalted over me? 3 Consider and hear me, O LORD my God: lighten mine eyes, lest I sleep the sleep of death; 4 Lest mine enemy say, I have prevailed against him; and those that trouble me rejoice when I am moved. 5 But I have trusted in thy mercy; my heart shall rejoice in thy salvation. 6 I will sing unto the LORD, because he hath dealt bountifully with me. Doesn't it seem like God hides from us when we're in the midst of a trying situation? We pray and our prayers don't seem effective. It's like God isn't listening. Many years ago someone wrote a poem and didn't put their name to it, left it anonymous called Footprints in the Sand. When we don't think God is listening to us, it's in those times he's carrying us and taking special care of us. David was at the point of wondering where God was with all the trouble he faced. Yet we see that no matter what it looked like, David still kept his trust in God to carry him through the battle. His last line shows his trust resulted in knowing God dealt bountifully with him. That is our promise as well. When times look their worst, God is at his best, taking care of us and carrying us until the situation changes and the storm clouds have rolled away in our lives. In those times, we need to thank God for carrying us. Let's pray: Father, thank you for taking care of me even in those times it seems you are far from me. Help me to keep my focus and trust in you and not allow Satan a foothold in my life. In Jesus' name, I pray, amen. Copyright © 1 April 2016 by Valerie Jean Routhieaux Image courtesy of Pixabay
4 responses


• Roseburg, Oregon
1 Apr 16
I am glad that God is taking care of me. God takes care of all of us.


• Green Bay, Wisconsin
2 Apr 16
We just need to remember that sometimes and the fact God loves us and takes care of us even if we can't see it.

• United States
1 Apr 16
Great reminder. We need to persevere through our trials knowing God is right there walking with us. Such a simple thought yet so profound. Have a blessed day and weekend.

• Green Bay, Wisconsin
1 Apr 16
Thank you. I hope you have the same. Blessings.