Goat Spotting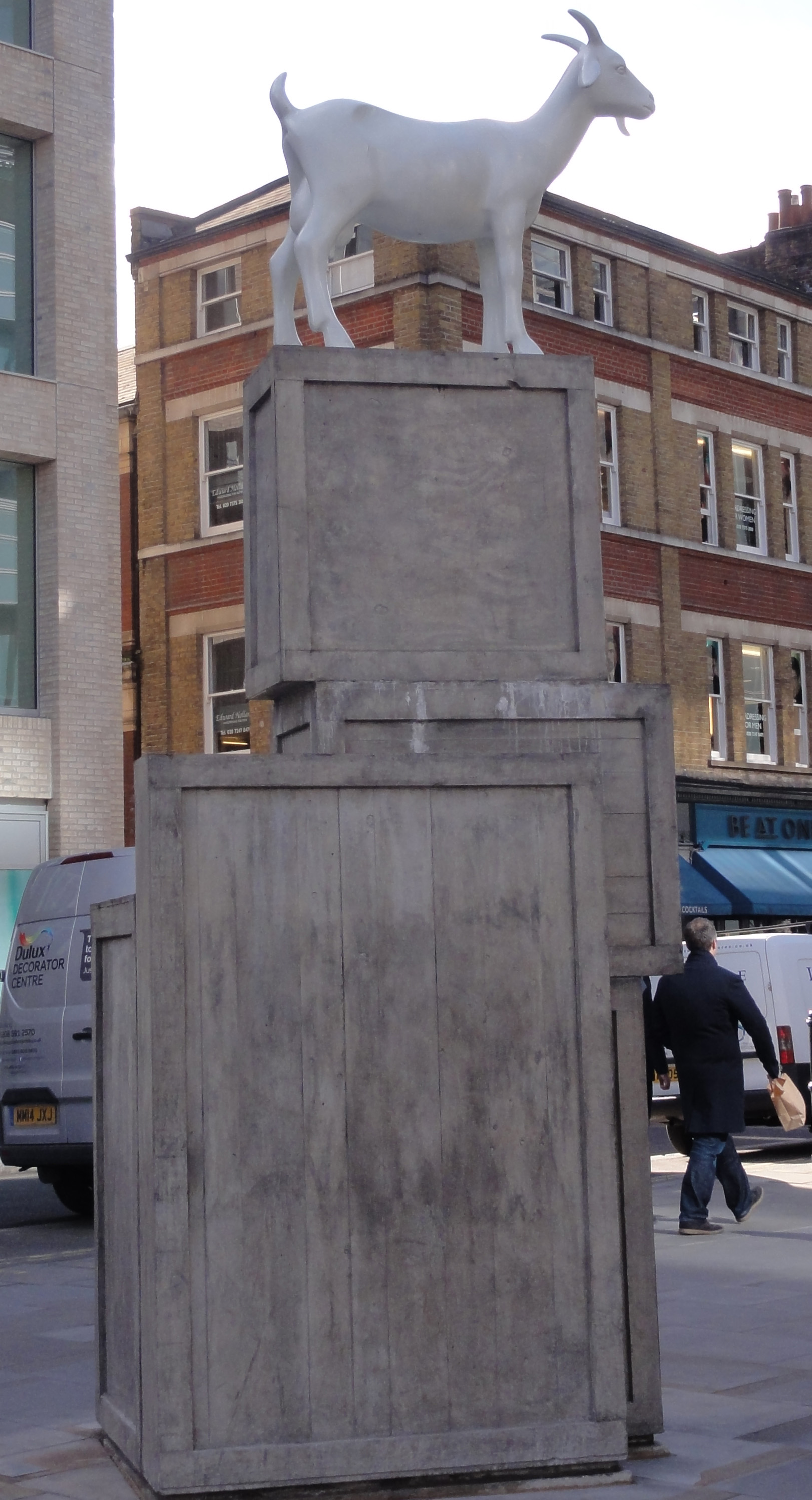 London, England
April 4, 2016 10:03am CST
Ambling around town, you do spot some strange things. In Spitalfields is a sculpture of a goat standing on top of a pile of packing crates. Being nearly 12 feet tall, it does stand out a little bit. It is called 'I Goat'. There are several pieces of public art in the area and this goat is said to represent the spirit of the area, that is non-conforming and independently minded. Can't say I see it, but okay. Now an area of concrete and glass buildings, Spitalfields was once the field next to the medieval hospital of St Mary Spital.
10 responses

• Bunbury, Australia
5 Apr 16
I am a great fan of goats so I'd be taking photos of this too. They make lovely pets.

• Toccoa, Georgia
4 Apr 16
That is interesting looking. I once saw a wild boar statue walking through a city onetime.

• London, England
4 Apr 16
Mostly it is people on horses around here and Hodge the cat, of course

Just off Gunpowder Square is Gough Square, where sits the statue of a cat; Hodge, 'A very fine cat, indeed.' Next to Hodge, on the plinth, are some oyster...

• United States
4 Apr 16
Isnt that something now Ron? A goat..haha I love it. Have never seen this one Ron.





• Preston, England
5 Apr 16
intriguing piece of street art

• Colorado Springs, Colorado
4 Apr 16
Never saw a statue of a goat before.

• United States
4 Apr 16
Can't help it. It is too close to spittle for my taste. So strange. Sometimes culture and avant-garde can go too far. But I'd love to have gone on the trip with you. It sounds like you have just loads of fun.

• Ireland
4 Apr 16
@ronrybs
That's the sort of thing that amused me no end when I come across it. Hilarious.

• Los Angeles, California
4 Apr 16
IN America, the term "goat" means loser or the sacrificial lamb punished for losing.