Interesting facts about India #1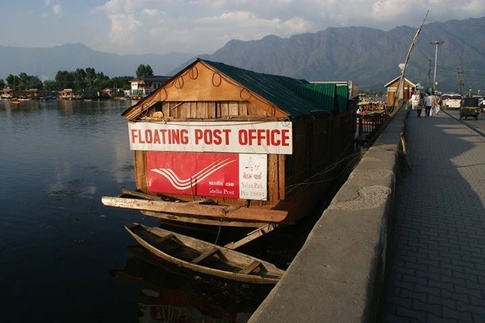 Mumbai, India
April 7, 2016 2:05am CST
We might know that India has the largest number of Post offices in the world. But today I came across a floating post office in India. How many of you know about this floating post office? It is built on a huge houseboat on Dal Lake in Srinagar. Srinagar in Jammu and Kashmir is one of the most beautiful and popular destination in India. It is famous among tourists and has several attractions as well, Dal Lake being one of them. The floating post office is first of its kind in the country. To make it more innovative, the place also has a philately museum and a shop that sells postage stamps and other products. Moreover, the letter posted from here carries a special design with pictures of coruscating landscapes of the Dal Lake and Srinagar city. The pictures will reach wherever the letter will be posted and will help promote Kashmir as a tourist destination across the world. I hope you enjoyed reading it. Have a good day

5 responses

• United States
7 Apr 16
Hello Bhagyashree. Wow. That sounds quite practical and interesting. I can't say I have ever been very familiar with that mode of mail delivery. Doing a little snail mail sail. He he he.

• Mumbai, India
7 Apr 16
Hello, Shurhonda. You might want to visit Srinagar in order to experience it and do the snail mail sail thing


• United States
7 Apr 16

• Zamboanga City, Philippines
7 Apr 16
it is a nice idea to attract tourist, here in my city we have houses floating in the sea. :) half of its house is in the shore while the other half is in the sea. :)

• Mumbai, India
7 Apr 16
yup. wow! do post them here I would like to take a look.

• Zamboanga City, Philippines
7 Apr 16
@hydraa
It is in the far side of the city, but if I'll have time to go there I will surely post it here. :)


• Mumbai, India
7 Apr 16
You missed it

Do visit next time you plan your trip


• Mangalore, India
7 Apr 16
Thanks for sharing such a interesting fact about india

Being a indian even i didnt know about this.. Hope we can expect more interesting facts about india :)

• Mumbai, India
7 Apr 16
Even I discovered it today. Yes, definitely I'll be posting more facts