Letting a Sleeping Cat lie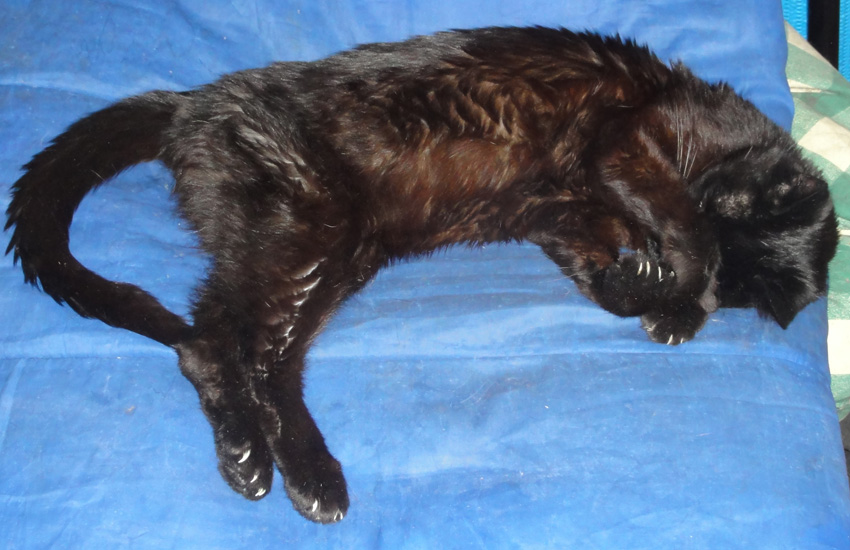 London, England
April 11, 2016 3:02pm CST
Burbank, AKA Mr B and Big Cat spends many an hour having a kip and this afternoon he got his sister's favourite spot. She claimed my footstool. I didn't think it was that bright, but Mr B felt the need to cover his eyes. When he was younger he used to sleep on his back with all four paws in the air, but we haven't seen that for a while. Hard to believe, but he had a brush shortly before this picture, now he looks as if he has come through a hedge backwards. Still a photogenic cat, though.
7 responses

• United States
11 Apr 16
A really nice cat he is Ron. I like the way his fur is all jaggedy like. A fine cat having a lovely sleep.


• United States
12 Apr 16
@Ronrybs
Is that


• United States
14 Apr 16
He is adorable. We had a black girl kitty cat, Missy, who was a handful, but we loved her despite the fact she would bite us or scratch us when we least expected. She lived to age 16.

• Bunbury, Australia
11 Apr 16
He looks very comfortable if a bit bedraggled. Maybe they have less fur as they age as our elderly cat always looks a bit unloved too.

• Colorado Springs, Colorado
11 Apr 16
We have a couple cats that sleep like that when the heater is on.

• Los Angeles, California
11 Apr 16
I have seen cats sleeps with paws over eyes before. It's a cat thing.