Ever Watch a TV Show or Movie Several Times?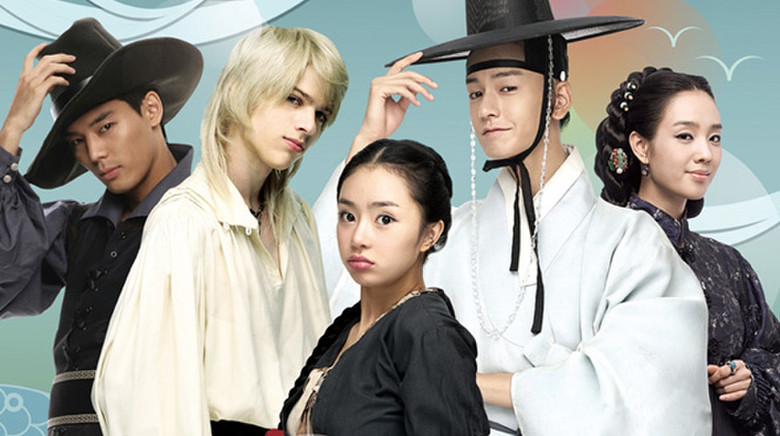 Austin, Texas
April 11, 2016 8:20pm CST
Video streaming is the best invention since the television was invented. Remember back when if you were hooked on a TV show, you watched that season, then you watched repeated shows, and then you waited a few months until the next season. But now that we have streaming services like Netflix we can binge watch several seasons at one time, as many times as we want. Well … even with that feature, seldom do I ever watch a series more than once. Went through 17 seasons of
Midsomer Murders
. Don't really want to restart and watch them all over again. But there's this television series from South Korea, called
Tamra, the Island
. I've watched it so many times I've lost count. This has never happened to me before. It's like that show and I are in a relationship.
It's so bizarre!
I actually don't mind watching it again and again and again and ... The main character is a feisty little innocent girl who is fiercely loyal to her family and friends, but has the courage, inner strength and determination to break with tradition, and find her own way in a world that is not a very nice place for a low-born. Let alone a low-born young girl. In case you're not a subscriber, this series is not a Netflix exclusive. It's available elsewhere online.
It's so cute!

Image credit: viki.com

Young British noble William hops on a Japan-bound ship to look for Far Eastern treasures, but he gets thrown overboard during a storm and drifts to the exotic island of Tamra. Despite the language barrier, he falls for local girl Beojin, a cute and inquisi
9 responses

• Philippines
12 Apr 16
I think the movie that I've seen the most times on DVD is Ghost by Demi Moore and Patrick Swayze. I so love that film. I saw the movie Twilight on cinema 7 times on different days and different cinema houses. Then I saw Michael Jackson's "This Is It" 8 times on cinema, again on different dates and different cinema places. I am that crazy


• Austin, Texas
12 Apr 16
During the holidays, I watched "White Christmas" with Bing Crosby and Danny Kaye several times, because when I was growing up I only got to watch it once a year. Since it was on Netflix, I made up for lost time. That was the movie that made me love snow. (Grew up in Miami, Florida. Had never seen the snow.)


• Philippines
12 Apr 16
Netflix is already available in our country but I haven't tried its service yet. I tried watching again "The Last of the Mohicans" for free from one website but I didn't have a good watching experience since there were times that the movie would stop running. Maybe because its free and lots of viewers are connecting and this slows down loading of the site's content

• Austin, Texas
12 Apr 16
@rhymeblue
- Yes. That happens a lot when I try to view at other sites. Lots of glitching and screen freezing. Makes you really miss good old-fashioned television. TV hard ever had "technical difficulties". But you picked a good movie to try to watch. "The Last of the Mohicans" was awesome!!


• United States
12 Apr 16
I will definitely look out for this series Moneyspinner. I have been a fan of the Korean drams for a good while now. I am currently watching This Is My Love. I do sometimes watch things again, either movie or show.

• Austin, Texas
12 Apr 16
I just added more K-dramas to My List. My husband is watching one now and it's full of action!


• United States
12 Apr 16
@cmoneyspinner
Cool


• Wausau, Wisconsin
12 Apr 16
I love watching House over and over

• Austin, Texas
12 Apr 16
Never got into watching House. My son like medical shows. House was interesting when I did watch though. It can get you hooked.


• Austin, Texas
12 Apr 16
LOTR trilogy? WOW! You really have patience.

•
22 Jul 16
Some of the movies I've watched many times are: all the James Bond movies, 'The Birds,' 'Psycho,' and Clint Eastwood's western movies. For TV shows, I've watched the reruns many times of 'Big Bang Theory,' 'Married with Children,' 'Seinfeld,' 'Hitchcock Hour and Presents,' 'Perry Mason, and 'Keeping Up Appearances.'

• Austin, Texas
22 Jul 16
Yes. James Bond and some Clint Eastwood westerns we watch over and over. But that movie "Gladiator" starring Russell Crowe is a film worth watching multiple times. Even if you get tired of the script, you love the soundtrack. It's awesome!


•
23 Jul 16
@cmoneyspinner
I can't count how many times I've seen James Bond and Eastwood's films and each time it's like I'm never bored and I see something new in their movies. Oh, yes, I have watched 'Gladiator' - I love those Roman historical epic films!

• Austin, Texas
23 Jul 16
@Micmac
- I like historical epics. It's my favorite film genre.

• Indonesia
12 Apr 16
Often. I often watch a movie several times and I still loving it....


Is it strange...?

• Austin, Texas
12 Apr 16
Sometimes I have watched a movie more than once. But never a TV series. Tamra the Island is a series and I just love it to pieces! My kids think I'm nuts!


• Indonesia
12 Apr 16

• Calgary, Alberta
22 Jul 16
The inconsistency in tamra is the annoying fact the guy dont have English accent when he speaks English because he is French.

I mean in Massan, The actress is American but she speaks with authentic Scottish accent when she needs to speak English.

• Austin, Texas
22 Jul 16
The series has its flaws. But the leading characters who played Virjeen and Park Gyu, carried out storyline successfully. You know even though William is French in real life, he didn't have much of a French accent either!


• Anniston, Alabama
12 Apr 16
Yes I have but as you said, some of the shows, once is enough but others you want to absorb for some odd reason.

• Austin, Texas
12 Apr 16
It is odd. It's so unlike me to get so emotionally attached. The setting is 17th century in a part of the world that I know hardly anything about and yet I feel like the characters could have easily been my friends. Weird!


• Momence, Illinois
23 Jul 16
I may have to give that one a go, I'm don't watch a lot of tv but do enjoy a good show now and then, thanks.,