When cats and dogs play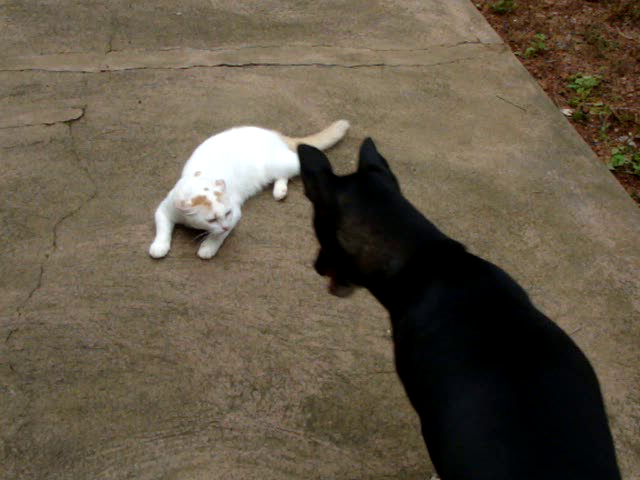 India
April 13, 2016 2:09am CST
It has a lot do with the atmosphere the home people create that makes it possible for cats and dogs to live in harmony. I see Preiti welcoming cats after she has seen them for a while. It is not just that they are fed well but much more than that. It is also said that dogs behave wild when the people of the house behave wild with each other. Our cats and dogs also lived in harmony and that is a testimony of the atmosphere that prevailed around them. Here is a video clip of Preiti playing with the neighbour's cat.

Preiti takes a little bit of time to know the cats that visit our property. She then has a ball with htem.
10 responses


• India
13 Apr 16
She was playing the catch game. They got along very well.

• India
13 Apr 16
definitely the do. I have a cat who is actually more irritated when other cat is around and she enjoys with puppy or a dog. may be opposite attracts. lol

• India
13 Apr 16
@allknowing
Interesting video.While Preiti is tolerant,the cat does not seem so. The cat is the guest here.

• India
14 Apr 16
The cat was running around expecting Preiti to catch her. They were the best of friends.

• India
14 Apr 16
@allknowing
I thought the cat was a little aggressive,though Preiti was very warm and tolerant.

• India
14 Apr 16
@silvermist
May be it looked like that. I know that cat. She was the most loving and cuddly animal that I had seen in those days



• Philippines
13 Apr 16
My cats and dogs grew up together so I really have no problem, their natural instincts only come out during meal time.

• India
13 Apr 16
When you say their natural instinct comes out during meal time does that mean they fight at that time?

• Philippines
13 Apr 16
@allknowing
Not really fight but protecting the food so we feed them separately, the same is true when you drop food then they tend to drive away each other

• India
13 Apr 16
@louievill
I can understand that. After all they are animals.


• Banks, Oregon
13 Apr 16
Yes, animals take on the personality of their owners sometimes, it's also important to give them both equal attention.

• India
13 Apr 16
They learn to deal with each other and seem happy together.

• India
13 Apr 16
Thanks. I reloaded it. It works now.



• Winston Salem, North Carolina
13 Apr 16
Right now we only have cats, but in the past we have had both. They've tolerated each other, but never actually became friends.

• Redlands, California
13 Apr 16
Interesting,we all do like to do that with strict people. My pups cry when I leave and my sister lets me know every time. She does not really want them to be that way and neither do I . A little to dependent, Not sure how we correct this problem because I work from home and have to make money. It is all a slippery slope, but do think it is better than them throwing a party when I leave. Hard to give animals perspective.