Testing Is Exhausting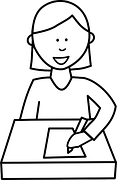 United States
April 16, 2016 11:29am CST
Testing is one of the most exhausting things you have to go through in school. It is as exhausting for teachers as it is for students. I'm not talking about the everyday test you give them in individual subjects, I'm talking about the state testing we go through. It takes weeks to complete all of the grades and the kids are not patient. First and foremost is the fact that once they finish the test they need to be quiet and are not allowed to do anything including read a book. It is extremely hard to keep them quiet, especially the ones that are ESE. They are allowed extra time and they really do need it. The rest of the kids have to be silent no matter how long it takes. I will be thrilled when all of the testing is over. Every night we seem to go home feeling like limp dishrags. I feel sorry for the kids and sorry for us.
5 responses

• United States
16 Apr 16
I hated the testing because it would be all day and take so long! Half way through the day is be tired.

• Kiryat Ata, Israel
16 Apr 16
I understand how you feel. Some kids can barely sit and focus for 10 minutes. I teach kids about computers so they can get a computer to their families. The problem is that they need to do tasks in word, power point, excel and etc... I collect their assignments and give them to the training coordinator. Some of the kids don't want to do the tasks and some don't even bother to do the test. So, how can they get the computer ? They need to come with a big brother or with one of their parents but, they can't come most of the times. In my class, they can at least play the computer until I check all of the kids. I guess learning is difficult to many people. How do people expect kids to sit quietly for a long time ? Why can't testing be done by doing an interesting task as a class and not as individuals ? I think the whole system needs a change in the way children are being taught.



• Chennai, India
18 Apr 16
Looks like a tough situation for both the parties. Hope this season is quickly over.

• Oxford, England
17 Apr 16
Sorry for you all. Glad I am passed the time of exams!