A sneak peek before the Queen's Birthday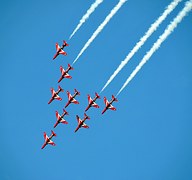 Greece
April 18, 2016 3:09pm CST
On Friday we were treated to an unexpected pleasure. I noticed a cloud of white smoke in the sky in the shape of a heart. After a moment or two Red Arrows burst across the sky trailing red white and blue smoke behind them as they then gave us a wonderful display of aerobatics. They come to Greece to practice quite regularly in a sky that is almost always guaranteed to be cloudless and this time they were preparing for the Queen's Birthday. They seemed to be trying to put an arrow of smoke through the heart but didn't quite make it but no doubt it will be perfected for the big day over the skies above Buckingham Palace shortly.
7 responses

• Dollard-Des-Ormeaux, Quebec
18 Apr 16
That must have been interesting to see.

• Bunbury, Australia
18 Apr 16
How wonderful to be able to watch these men practising their aerobratics. It would be nearly as good as the real thing.

• Boise, Idaho
18 Apr 16
Nice attempt. I hope that they make it for her birthday.

• Northampton, England
18 Apr 16
They seem to fly over us fairly often. But not usually practicing their tricks

• United States
18 Apr 16
How cool is that? It must have been quite a sight to see. The Queen will be 90 so I guess that is a really special occasion.

• United States
18 Apr 16
How wonderful you got to see that practice session!!!