Daily Bible Study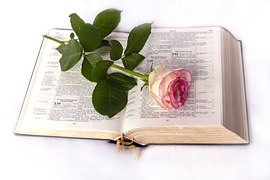 Green Bay, Wisconsin
April 19, 2016 12:12pm CST
Day 31 Psalm 31 Psalm 31:1 < In thee, O LORD, do I put my trust; let me never be ashamed: deliver me in thy righteousness. 2 Bow down thine ear to me; deliver me speedily: be thou my strong rock, for a house of defense to save me. 3 For thou art my rock and my fortress; therefore for thy name's sake lead me, and guide me. 4 Pull me out of the net that they have laid privily for me: for thou art my strength. 5 Into thine hand I commit my spirit: thou hast redeemed me, O LORD God of truth. 6 I have hated them that regard lying vanities: but I trust in the LORD. 7 I will be glad and rejoice in thy mercy: for thou hast considered my trouble; thou hast known my soul in adversities; 8 And hast not shut me up into the hand of the enemy: thou hast set my feet in a large room. 9 Have mercy upon me, O LORD, for I am in trouble: mine eye is consumed with grief, yea, my soul and my belly. 10 For my life is spent with grief, and my years with sighing: my strength fails because of mine iniquity, and my bones are consumed. 11 I was a reproach among all mine enemies, but especially among my neighbors, and a fear to mine acquaintance: they that did see me without fled from me. 12 I am forgotten as a dead man out of mind: I am like a broken vessel. 13 For I have heard the slander of many: fear was on every side: while they took counsel together against me, they devised to take away my life. 14 But I trusted in thee, O LORD: I said, Thou art my God. 15 My times are in thy hand: deliver me from the hand of mine enemies, and from them that persecute me. 16 Make thy face to shine upon thy servant: save me for thy mercies' sake. 17 Let me not be ashamed, O LORD; for I have called upon thee: let the wicked be ashamed, and let them be silent in the grave. 18 Let the lying lips be put to silence; which speak grievous things proudly and contemptuously against the righteous. 19 Oh how great is thy goodness, which thou hast laid up for them that fear thee; which thou hast wrought for them that trust in thee before the sons of men! 20 Thou shalt hide them in the secret of thy presence from the pride of man: thou shalt keep them secretly in a pavilion from the strife of tongues. 21 Blessed be the LORD: for he hath showed me his marvelous kindness in a strong city. 22 For I said in my haste, I am cut off from before thine eyes: nevertheless thou heard the voice of my supplications when I cried unto thee. 23 O love the LORD, all ye his saints: for the LORD preserves the faithful, and plentifully rewards the proud doer. 24 Be of good courage, and he shall strengthen your heart, all ye that hope in the LORD. What governs your lives? Do you try to get all you can out of life by reaching the top of the ladder by any means possible? Does pride stand in the way of your achievements? What is important to you? David did not consider his achievements as anything. He said he would rather be ashamed of them if they did not glorify God. He trusted God to deliver him. He put his hope in God so he would never be ashamed when his enemies came against him. He expected God to deliver him. He sought God's mercy and kindness. He listened for God's voice, and he expected God would hear him when he called on him. What is your expectation? Do you trust God to take care of you? Do you trust God to defend you? Where is your hope? Who or what do you look to, to take care of all your needs? Satan would have us believe that God doesn't care about our daily struggles and needs. Satan would have us believe that God has more important things to do than to defend us against him. The truth is God loves you and will do everything to show you his love and give you his protection from Satan. There is no more important person in the universe than you or me. His love for us proved itself when he sent his Son, Jesus, to die on Calvary, on an old wooden cross, taking all our sins on him and nailing them to the cross. Jesus' victory over death, hell, and the grave, his victory over Satan, is our victory over Satan. His resurrection is our resurrection. His triumph is our triumph. David trusted God for everything in his life. He was not ashamed of anything because God was his life and the life force that ran through his veins. Is God the life force that runs through your veins? Is Jesus your Savior? Do you have the victory that overcame the grave when Jesus rose from the dead? Are you waiting for that day when Jesus returns in a cloud of glory, just as he left? If so, you have nothing to be ashamed of because God is on your side, defending you against all Satan's lies, and protecting you with his righteousness. Let's pray: Father, let your righteousness shield me from all Satan's temptations and lies. Defend me with the knowledge of your unfailing love for me, and let me be your humble servant, ready to take your gospel to the ends of the world. In Jesus' name, I pray, amen. Copyright © 19 April 2016 by Valerie Jean Routhieaux Image courtesy of Pixabay
5 responses


• Green Bay, Wisconsin
20 Apr 16
As a matter of fact no, he didn't. That is not a verse in the Bible. He wants us to rely on him for everything. Jesus said take my yoke on you and learn of me. Check out Proverbs 3:5-6.

• Green Bay, Wisconsin
21 Apr 16
@Inlemay
That's true. When we work, using the talents God gave us, we will prosper. However, that doesn't mean we do it by ourselves.

• Philippines
4 Jul 16
I pray and hope for the best but I prepare for the worst. Thank you for this inspiring post and uplifting prayer.

• Green Bay, Wisconsin
5 Jul 16

• Luxembourg, Luxembourg
20 Apr 16
Thanks for this.



• Stanton, Kentucky
19 Apr 16
Thank you Valerie, for this reminder of the power of God's love for all of us.

• Wausau, Wisconsin
19 Apr 16

• Green Bay, Wisconsin
20 Apr 16
God is so good, ALL the time!