Why I Love to Write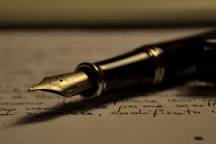 Nashville, Tennessee
April 25, 2016 5:40pm CST
I love to write because it helps me release stress, depending on what I am writing about. Writing helps me release my inner thoughts and blow off some system. I love to write about all types of topics and subjects. It makes me feel good seeing my words on paper in front of my face. Sometimes I have some pretty deep thoughts and words. My life and my situations are constantly changing and I love the fact that as long as I got my mind, my hands, and fingers I will always be able to release what I am feeling on paper.
10 responses




•
26 Apr 16
I too love writing ...that's why I want to start a website.



• Nashville, Tennessee
26 Apr 16
That was me about 10 years ago. I would only write when something bad was going on and it would most of the time result into a poem. I have not wrote a poem in years, it does not mean that I have not had any rough days it just means that I haven't had time to sit down and write it. But I do believe writing is a form of expression and it is all about doing what makes you calm, cool, and content (that's how I feel after writing something).

• Ciudad De Mexico, Mexico
25 Apr 16
I also like write to release some kind of inner sensitivity; besides writing about stories and events takes to the very spot of the scene. It´s a wonderful passtime, while at the same time rewarding experience!

• Wausau, Wisconsin
25 Apr 16
I love to write. That is why I blog here.

•
26 Apr 16
I used to keep diary when I had some emotional fluctuations.writing down both negative and positive thoughts refreshs me

• Philippines
26 Apr 16
I love writing though i'm not a gifted one. I have a collection of journals and planners where it contains my thoughts and feelings.

• Lake Charles, Louisiana
25 Apr 16
I like to write because I feel better creating new characters for super hero fan fictions.

• India
25 Apr 16
Writing for me is the way to pour thoughts of heart and mind out and it gives me relief to present what i am to others....