Was Shankar Jaikishan the most creative musical duo of 1950s and 1960s?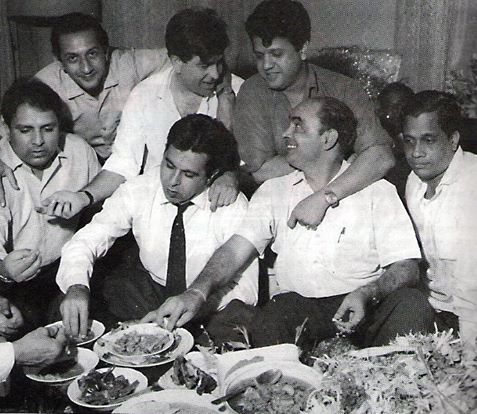 April 27, 2016 10:03pm CST
In today's bollywood music there are many music director jodi right from Salim Sulaiman to Vishal Shekhar. The trend was started with Shankar Jaikishan and Hunslal Bhagatram. Shankar Jaikishan between 1949 to 1971 composed music for more than 200 films. They composed music for films of Raj Kapoor, Rajender Kumar, Shammi Kapoor, Dharmender, the most. But they composed music for Biswajeet, Pradeep Kumar, Raj Kumar, Dilip Kumar, Joy Mukherjee and others. Rafisahab, Manna Deysahab, Mukeshji, Talatji, Lataji, Sumanji almost all the leading singers did sing their songs. Films like Sangam, Anari, Aarzoo, Love in Tokyo, Gumnam became hit due to the brilliant music of Shankar Jaikishan. SJ competed against the greatest giants like Naushad Ali, Roshanlal Nagrath, OP Nayyar, Madanmohan Kohli and still kept their mark.
1 response

• Pune, India
28 Apr 16
Tough to say as I have not heard him much. The only songs that I know of Shankar Jaikishan are from Raj Kapoor's movies. In today's times, the trend of duo music directors is not that much as there are multiple music directors who compose for one movie. The best duo I heard is Jatin Lalit so far.

•
29 Apr 16
Dear Avinashji, thanks for the comments. Shankar Jaikishan were instrumental in the success of major heroes of 1950s and 1960s. Bharat Bhushan's film Basant Bahar became super hit for songs. Shammi Kapoor's rock and roll andaz was given shape by shankar Jaikishan. All his films like Junglee, An Evening in Paris, Brahmachari had SJ music. Rajender Kumar's ghazals in Aarzoo, Dil ek Mandir, Aye Milan Ki Bela all belonged to SJ. There is a very big list. SJ were unparallel music duo.

•
3 May 16
@sathviksouvik
While other composers like Naushad Ali composed music mainly on one specialized area like hindustani classical songs, Madanmohanji on ghazals, Shankar Jaikishan was versatile right from western songs to folk songs. The range was huge.