Zooming In on the Hills of Paso Robles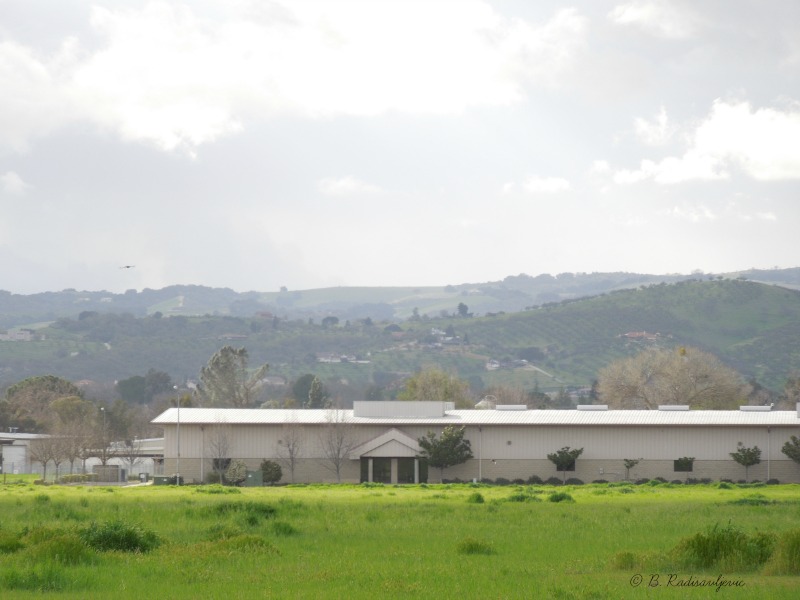 Paso Robles, California
April 28, 2016 2:08pm CST
On one rainy day I decided to park in the parking lot of an industrial building across from a vacant agricultural area, get out of the car with my camera, and take a photo walk to see what I could see. I got a lot of good photos, some of which I've already shared here. This is not one of the best, but it's interesting in pointing out the limitations of my Nikon Coolpix S9300 point and shoot zoom lens. There was a great view of the distant hills above the city of Paso Robles from where I was standing. The building was in front of it. I wanted a photo of the hills. I was standing in the green meadow, looking toward the building and the hills behind it. I used the zoom to get the hills, but because they are so far, the camera made them fade, as it usually does when I zoom in on something far away. Everything in front of the hills is larger, and the space between the building and the hills, which really are a few miles away, seems to disappear, making it look like the building is almost at the foot of the hills. At least, though, you can see the view of the hills of Paso Robles in this photo, and having those hills just a few blocks from our downtown area is one reason I like this city. Do you have hills or mountains near where you live - close enough to get to in five or ten minutes? Do you prefer to live near mountains, the beach, or both?
6 responses

• Bunbury, Australia
29 Apr 16
I like living near the bush. I wouldn't mind mountains or a small river but I'm not a beach person.

• Paso Robles, California
29 Apr 16
I'm not a beach person, either, though I like to see the ocean occasionally.

• United States
28 Apr 16
We are in the foothills of the blue ridge mountains and I wouldn't want to live anywhere else. I am a mountain girl for sure. Beautiful picture. Have a blessed evening.

• Paso Robles, California
28 Apr 16
I'm a mountain girl, too. I think I'd be depressed to see only flat land around me.

• Los Angeles, California
28 Apr 16
I live in LA and there are hills a mile or so away in the big city. Coyotes come down from them.

• Paso Robles, California
28 Apr 16
As I remember, on a clear day we could see the San Bernardino Mountains. In West L.A. we could see the hills of Westwood and Brentwood.

• Grand Junction, Colorado
6 May 16
Paso Robles, is beautiful place. We have mountains near us. The closest is Mt Garfield it is maybe a 15 minute drive. I can see it out the front windows of my place, it's beautiful.

• Paso Robles, California
6 May 16
Grand Junction is beautiful, too. The only thing I didn't like there was the traffic on the main street of town. That was back in 1989. Maybe it's better now.

• Grand Junction, Colorado
9 May 16
@bagarad
, Traffic on North Ave, which is the major street is still congested at times. It's 4 lanes, but lots of traffic lights. Lots of stop and go traffic, and the speed limit is 35 mph. We moved here a couple years ago from Northern California, so the traffic really doesn't seem all that bad to me the majority of the time. I can get to pretty much anywhere in town, in no more than 20 min, and I live outside of the city.

• Paso Robles, California
9 May 16
@beaniefanatic13
I think it only had two lanes when we were there. It seems to take forever to get through town. I was living in Southern California, and it was worse that I was used to in street traffic. Freeways during rush hour were a different story.

• Philippines
6 May 16
Here in our office , when you clear the blinds you will see the mountain just about 50 meters from the building where we are . I always gaze at it when it seems i feel dizzy from being at the computer the whole day .

• Paso Robles, California
6 May 16
That would be a wonderful view and a way to hit the mental refresh button.

• Cagayan De Oro, Philippines
6 May 16
Nice place, cool and peaceful.

• Paso Robles, California
6 May 16
It's only cool in winter. Some summer days see us in triple digit temperatures.