Are the number of horeses 4 or 5?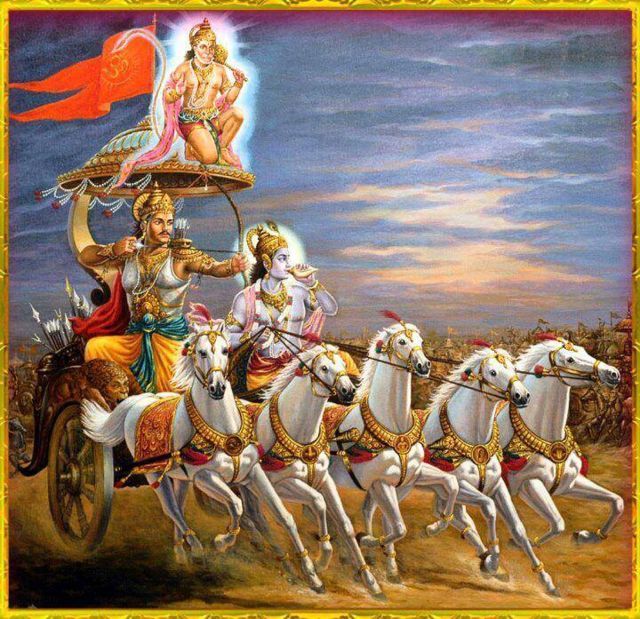 Hyderabad, India
April 29, 2016 11:54am CST
The great war 'KURUKSHETRA' was fought between Pandavas and Kauravas and it is in the battlefield Lord Krishna preaches BHAGAVADGITA to Arjuna. The book is available nowadays in many book shops with covers in beautiful colors. There are many commentaries written on Bhagavadgita which is the essence of UPANISHADS. When I visited a BOOK FIAR in Hyderabad I noticed something that was disturbing with the cover photo of Bhagavadgita. I noticed that there were 5 horses shown as tied to the Chariot of Arjuna during KURUKSHETRA. I really wondered how one can choose the number of horses as per one's own choice. The Bhagavadgita gives an elaborate day by day description of the battle. In the battle who was the charioteer of whom, On what day who fought with whom, how they fought, how many participated from both the sides, how many perished etc., When there is such conspicuous description was given how is it that the number of horses was totally taken light? The number as per Padmapurana is four. The names of these horses are ; Saibya, Sugriva, Meghapuspa and Balahaka It also equally surprising that the number is not mentioned in Bhagavadgita.
1 response

• Ciudad De Mexico, Mexico
29 Apr 16

• Hyderabad, India
30 Apr 16
Yes. That is what I am pointing out. This number is not mentioned anywhere in MAHABHARATA though there is a detailed description of the entire KURUKSHETRA BATTLE. Similar mistakes and contradictions may take place with any other religious books also showing a scant respect to the saings of great people.