Is Hilsa fish good for health?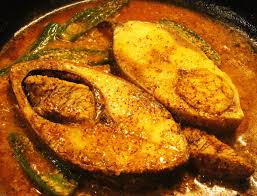 April 30, 2016 10:28am CST
Hilsa fish also called ilish in bengali has the scientific name Tenualosa ilisa. It is rich in amino acids, minerals and lipids. Its consumption reduces heart disease, diabetes, cancer, obesity, etc. It has Omega 3 fatty acid. so it has a role to play in controlling cholesterol. In bengal ilish or hilsa fish is very costly but is cooked with mustard paste. The most delicious dish is sorse ilish, meaning hilsa soaked in mustard curry. There are other types of dishes also like posto ilish, ilish bhaja, meaning fried hilsa and ilish kanchkola beguner jhol. Hilsa is called the queen of fishes in Bengal. As there is scarcity considering it is found in the rivers Ganga and Padma, these days one kilogram of hilsa costs around Rs 700 to Rs 800. It is exported to UK, USA, Canada and other countries where it goes as tinned products. People should eat hilsa fish to get the nutrition available there as it is also good for eyes.
3 responses

• United States
5 May 16
Yes, it is very delicious and healthy to consume. However, it has many bones, so one must be careful when eating it. Compared to most fish, before it's even cooked, it has a nice aroma and gets even better after it is cooked or fried.

•
7 May 16
Thanks Zarla for the comments. You are right it is a bony fish. But it is delicious.

•
8 May 16
@zarlamain
Thanks Zarla Main for the comments. I love hilsa very much.


• Austin, Texas
30 Apr 16
Most fish is good food. But I know what you mean about it costing an arm and a leg. Most fish in the market is very expensive. That's why I miss when my husband used to go fishing. The catch he would bring back would cost a fortune at the store. Prepared with mustard paste? Sounds delicious!

•
1 May 16
Thanks Moneyspinner for the comments. Yes I am ready with the mustard paste. Come to my house in Kolkata I will give you hilsa dish. By saying the fish had become costly is to say that the availability is reduced down. These days in India, ponds and lakes are used for making multi-storied buildings. Many of the habitats are destroyed. So demand has increased. So they have become costly.

• Austin, Texas
5 May 16
@sathviksouvik
- Thanks for the invitation.


•
5 May 16
@cmoneyspinner
Thanks moneyspinner. My wife and mother are very good cooks. They will offer you mouth offering dishes.


• Toronto, Ontario
30 Apr 16
I actually have never heard of this kind of fish before.

•
30 Apr 16
Thanks Ricki for the comments. I think hilsa fish will be available in the departmental stores. It is supplied in Bulk by India and Bangladesh.

• Toronto, Ontario
30 Apr 16
@sathviksouvik
I will have to ask but then I am in a very small town. Maybe, it is available in the city

•
1 May 16
@ricki_911
If you get it Ricki and eat it, please mention whether you liked it or not.