Rasam : A traditional Indian Soup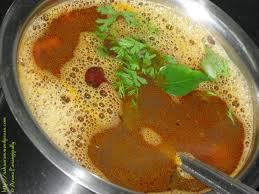 Hyderabad, India
May 8, 2016 10:48am CST
Rasam is the favorite item in India. It is Tamilnadu which is the birthplace of Rasam. The Word Rasam means JUICE in Tamil. There are varieties in Rasam. But, the Rasam is always made up of TAMARIND JUICE or TOMATO. Tomato Rasam is highly preferred in Southern Districts of Andhra Pradesh. This is actually a juice and will be served for rice. The traditional Indian way of eating prescribes that it should be eaten with rice just before the curd rice or buttermilk rice. The varieties of Rasam will have different ingredients and each is given different names. The types of Rasam are: Inji Rasam : Giner (ingredient) Kattu Rasam : lentils (ingredient) Alasanda Rasam: black eyed peas (ingredient) Milagu Rasam ; Black Pepper (ingredient) Puli Rasam : Tamarind extract (ingredient) Jeera Rasam : Cumin (ingredient) Mysore Rasam : Fried Gram (ingredient) Majjiga Rasam : seasoned buttermilk(ingredient) When a foreign Tourist visits India he should ask for Rasam and enjoy the taste of it. Nowadays people are taking this food item as Soup also. There are many ready-made powders available in the market and making of this item has become very easy. But, no one could get the taste of the original Rasam available and served in Tamilnadu.
3 responses

• Calgary, Alberta
8 May 16
O, I would love to slurp that soup . . . looks finger-lickin'-good!

. . My favorite soup is wonton soup!

• United States
8 May 16
I've been to India multiple times and have enjoyed this delicacy often. Very delicious!